Back
Scientists Reveal How Dinosaurs Became Able to Shake Their Tail Feathers
15 May 2013
Birds gained an already short, stiff tail from their dinosaurian predecessors, but later birds evolved shorter, stiffer tails that made them even better flyers.

An article published on Wednesday 15th May 2013 (2200hrs GMT/ 1400hrs PST / 1700hr EST; Thursday 16th May 2013 0050 hrs HKT) from The University of Hong Kong, in the journal PLOS ONE, reports new details of how the tail of two-legged, carnivorous dinosaurs (theropods) evolved into the remarkable flight-capable tail seen in living birds.
Theropod dinosaur tails like those of Tyrannosaurus rex and modern birds show striking variation in form and function. For example, the long, robust tail used for counterbalance in earlier theropod dinosaurs or the short tail of modern birds used for fine control of flight, especially during landing or turning.
Tail structure and function have many important components including length, diameter, taper, weight and aerodynamic feathering. Dr. Michael Pittman from The University of Hong Kong's Department of Earth Sciences and his co-authors from the United Kingdom (Royal Veterinary College and University College London) and the United States (Brown University) focused on measuring the dimensions of vertebrae (tail bones) that were expected to affect how stiff or flexible the joints between the vertebrae were in life. The ability of each joint to rotate influences both the tail's range of motion (mobility) and its resistance to motion. Using their simple geometric and biomechanical model, Dr. Pittman and his colleagues reconstructed the evolution of tail joint stiffness from early theropods to living birds. Their work provides important new details of the tail's morphological transformation, and, for the first time, quantitatively evaluates its biomechanical consequences.
During the early stages of theropod tail evolution, joint stiffness decreased. Initially the tail was suited for supporting its weight and maintaining the animal's balance without the need for continuous adjustments. However, as tail joint stiffness decreased, the tail became more effective at using movements to maintain balance, as with a tightrope walker.
However, during the evolution of birds (avian theropods), joint stiffness increased. This enabled birds to produce larger forces with their muscles, which in turn allowed them to use larger lift forces during flight with their shorter, more feathered tails. The greater range of tail motion in later birds enabled them to make more extensive adjustments to the shape and angle of the feathered aerodynamic surface in comparison to ancestral birds or non-avian dinosaurs. Consequently, later birds produced a wider range of aerodynamic forces, which supports the idea that living birds are more proficient and manoeuvrable flyers than their predecessors. However, the tail fanning capabilities that are so important to modern birds had already evolved around 125 million years ago in the early Cretaceous.
When asked about the wider significance of the study, Dr. Pittman replied, 'From the wings of Icarus to our busy modern skies, humans have long been fascinated by the flight ability of birds. In fact, the term 'aviation' stems from 'avis', the latin word for bird. Tails are often neglected in studies of bird flight so our study is an important new step towards broader reconstructions of avian tail evolution that incorporate all of the forces acting on the tail, including aerodynamic ones. Understanding how birds evolved flight is of direct relevance to modern aviation so it is exciting to know that in addition to its evolutionary significance, this study could perhaps inspire future generations of aircraft. I am also looking forward to applying our methods to study how dinosaur weapon-tails evolved as this is a classic question that has intrigued palaeontologists for more than a century.'
For press enquiry, please contact Dr. Michael Pittman, Research Assistant Professor, Department of Earth Sciences, The University of Hong Kong by phone at (+852) 2859 8047 (office)/ (+852) 5625 5019 (mobile) or by email at mpittman@hku.hk

Note for Editors
PLOS ONE is an international, peer-reviewed, open-access, online publication on primary research from any scientific discipline. For journal information, please visit: http://www.plosone.org/static/information
The article by Dr. Pittman and his co-authors will be available at http://dx.plos.org/10.1371/journal.pone.0063115 after the embargo has been lifted.

Figure Captions
The figures and the movie can be obtained via the internet at: http://www.scifac.hku.hk/news/media?page=1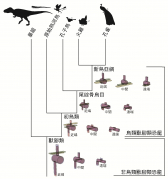 A subsample of ancestral vertebral morphologies from the base, middle and end sections of the tail that were reconstructed from early theropods to modern birds. These results were used to infer changes in tail joint stiffness. The theropod silhouettes are accompanied by smaller silhouettes of their tail skeletons. (Photo credit: Dr. Michael Pittman and his co-authors)