Back
HKU Identifies Homoharringtonine as Effective Treatment
for FLT3 Mutant Acute Myeloid Leukaemia for the First Time in the World
31 Oct 2016
The latest study of Li Ka Shing Faculty of Medicine, The University of Hong Kong (HKU) shows that Homoharringtonine (HHT) derived from plants, in combination with FLT3 inhibitor, could eradicate leukaemia cells in patients with FLT3-ITD acute myeloid leukaemia (AML) and prolonged their survival. The treatment was associated with minimal side effects. The study has set a new paradigm for the development of novel therapeutic agents in relapsed or refractory AML based on in vitro drug screening, and was recognised internationally. The study has been published in the leading journal Science Translational Medicine this month.
Acute Myeloid Leukaemia and Homoharringtonine
Symptoms of AML include anaemia, infection and bleeding. Diagnosis is usually made by blood and bone marrow examination. The disease is one of the most lethal cancers in Hong Kong, with an incidence of about 300 new cases a year. Intensive chemotherapy and allogeneic haematopoietic stem cell transplantation (HSCT) are the mainstays of treatment for AML. However, leukaemia relapse is the major cause of treatment failure and only one-third of patients can achieve long-term remission. For elderly patients unfit for conventional treatment, less than 10% patients can survive beyond 2 years.
Around 30% of AML patients carry a gene mutation FLT3-ITD in their cancer cells. The death rate will be up to 100% if these patients fail to respond to conventional treatment and they are unable to find matched haematopoietic stem cells for transplantation. There is an unmet clinical need to improve the outcome of these patients.
Homoharringtonine (HHT) is a drug derived from a plant known as Cephalotaxus fortunei, which can be found in Shaanxi, Henan, Hubei, Zhejiang and Sichuan. HHT has been used for cancer treatment in China since the 1970s. It is used indiscriminately in AML and there is no biomarker to identify the sensitive subtypes. As a result, the overall response has been unsatisfactory.
Research Method and Findings
FLT3-ITD AML patients often develop resistance to conventional chemotherapy and FLT3 inhibitor, leading to unsatisfactory treatment outcome. The research team of Department of Medicine, Li Ka Shing Faculty of Medicine, HKU, launched the study in 2012, performed molecular profiling and drug screening using leukaemia cells from AML patients and identified HHT being particularly effective in FLT3-ITD AML. Furthermore, HHT in combination with FLT3 inhibitor resulted in significant synergistic effects in suppressing leukaemia cell growth of this AML subtype. The team launched a phase II clinical trial and recruited 24 patients with relapsed or refractory FLT3-ITD AML to receive HHT and FLT3 inhibitor combination treatment. 20 out of 24 patients showed complete clearance of leukaemia cells after three weeks. Toxicity was minimal and the regimen was tolerable even in elderly and frail patients otherwise unfit for chemotherapy.
"The study has brought breakthrough treatment options for FLT3-ITD AML patients and healthcare professionals in the world. Patients, especially elderly patients and those who have poor response to chemotherapy or are unfit for allogeneic HSCT, can opt for combination treatment of HHT and FLT3 inhibitor. The study has prolonged patients' survival," said Professor Anskar Leung Yu-hung, Li Shu Fan Medical Foundation Professor in Haematology, Clinical Professor of Department of Medicine, Li Ka Shing Faculty of Medicine, HKU.
Future Studies
The platform arising in this study will be improved and modified for use in other AML subtypes with poor response to conventional treatment. Novel therapeutic agents currently in clinical trials for cancer therapy with a potential in AML will be included in the drug library for screening. The revised platform and drug library will likely generate novel information about biomarkers predictive of clinical drug response.
About the Research Team
The research team is represented by a group of local and overseas experts who are long term collaborators and share a common goal and commitment to develop novel therapeutics for the treatment of relapsed and refractory AML. Led by Professor Anskar Leung, the team comprises basic and clinician scientists who are experts in stem cell and cancer biology, cancer genetics and genomics as well as laboratory and clinical haematologists who manage AML patients in hospitals. Mr Stephen Lam, a student in the MBBS/PhD program of the Li Ka Shing Faculty of Medicine led the laboratory part of the study. Professor Kwong Yok-lam, Chui Fook-Chuen Professor in Molecular Medicine, Chair Professor of Haematology and Haematological Oncology of Department of Medicine, Li Ka Shing Faculty of Medicine, is also among the research team.
Please visit the website at http://www.med.hku.hk/news/all for press photos and presentation slides.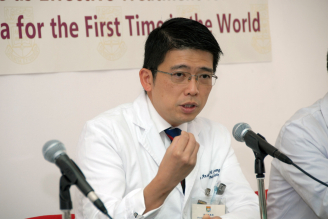 Professor Anskar Leung Yu-hung, Li Shu Fan Medical Foundation Professor in Haematology, Clinical Professor of Department of Medicine, Li Ka Shing Faculty of Medicine, HKU says, "The study has brought breakthrough treatment options for FLT3-ITD acute myeloid leukaemia patients and healthcare professionals in the world. The study has prolonged patients' survival."