Back
Visits to Li Ka Shing Faculty of Medicine by The National Committee of the Chinese People's Political Consultative Conference and The U.S. Consulate General in Hong Kong and Macau
16 Sep 2015
Recently, the longest established institution in higher education of Hong Kong, the Li Ka Shing Faculty of Medicine, HKU received two delegations from The National Committee of the Chinese People's Political Consultative Conference as well as The U.S. Consulate General in Hong Kong and Macau on August 22, 2015 and September 16, 2015 respectively.

Please visit the website at http://www.med.hku.hk/v1/news-and-events/press-releases for press photos.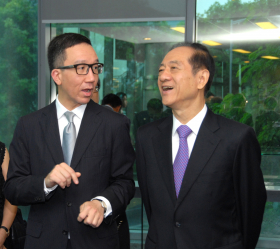 Dean Leung(Left) shared the vision and mission of our Faculty to the Professor Han Qide (Right)and hoped that there will be more collaboration with the Mainland counterparts in medical education and research. The delegation also visited the two State Key Laboratories. The delegation visited the State Key Laboratory of Emerging Infectious Diseases, which was established in 2005 by the Ministry of Science and Technology (MOST) in recognition of the outstanding contribution made by our scientists in response to the SARS outbreak during 2003/2004, and the collaboration laboratory between the Laboratory for Organ Transplantation and Regeneration of HKU and State Key Laboratory of Diagnosis and Treatment of Infection Diseases of Zhejiang Universitywhere different kinds of research, such as clinical, basic, translational and applied science have been carried out since its collaboration in November 2013.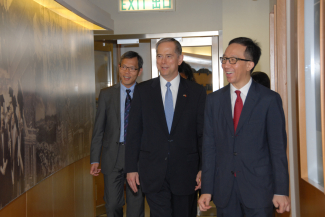 Another visit was held on September 16, 2015 by Clifford A. Hart, Jr., Consul General of The U.S. Consulate General in Hong Kong and Macau, focusing on our teaching and learning. (From Left to Right) Professor CS Lau, Associate Dean (Teaching and Learning), Clifford A. Hart, Jr., and Professor Gabriel M Leung, Dean of Li Ka Shing Faculty of Medicine, HKU.
CG Hart also took this opportunity to congratulate Professor Agnes Tiwari (Middle), Professor and Head of School of Nursing to be one of the 2015-2016 Fulbright– RGC Hong Kong Senior Research Scholar Awardees, a programme for researchers in US, Hong Kong and Macau to have cultural and educational exchanges, to conduct research in US on a cultural adaptation of empowerment intervention for abused Chinese women in prenatal and community settings.