Back
"Mountains Ablaze: The Republic and the Sino-Japanese War (1912-1946)" to display unique, historical documents of China's past
02 Sep 2015
The University Museum and Art Gallery (UMAG) will present "Mountains Ablaze: The Republic and the Sino-Japanese War (1912–1946)", an exhibition detailing the history of China during the first half of the twentieth century from September 4 to November 15, 2015. Chinese history is world history --- the rich and wide-ranging selection of original archival documents such as manuscripts, letters, calligraphy and paintings that are rarely seen before will be on displayed to demonstrate not only the strength of its people but also that international connections, and public and diplomatic relations, are inseparable from China's political and social developments.

An opening ceremony of the exhibition was held at UMAG today (September 2). Officiating guests include HKU Associate Dean of the Faculty of Arts Professor John Mark Carroll and Collector of the Mountains Ablaze Collection Mr. Shu Kong Soong. The ceremony was hosted by UMAG Director Dr. Florian Knothe.

This second sequence follows the first 'Mountains Ablaze exhibition: "Foreign Devils" and Chinese Patriots (1839–1911)', which focused on the late Qing dynasty and Late Imperial China. Connected with the rise of Dr. Sun Yat-sen, the present edition concentrates on the enormous efforts that went into building a republic and the foreign contact that influenced the politics of the day and China's reception for years to come.

About University Museum and Art Gallery of the University of Hong Kong (UMAG)
UMAG was founded in 1953 as the Fung Ping Shan Museum. It was originally established as the Fung Ping Shan Library in 1932 in honour of its benefactor. For more information on UMAG, please click here.

Media enquiries:
UMAG Communication Officer Miss Elena Cheung, Tel: (852) 2241 5512, Email: elenac@hku.hk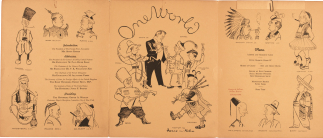 Menu of the Dinner to the Heads of Delegations to the
General Assembly and the Security Council of the United Nations
November 1946
Signed: V. K. Wellington Koo,
Ernest Bevin, A. Parodi
L: 28.6 cm 22.6 cm