Back
The international collaboration of HKU team finds that selecting genetically supported drug-targets can double the success rate in drug clinical development
24 Aug 2015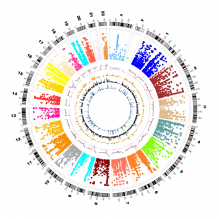 The success rate for drug discovery can be doubled if genes with genetic evidence support are selected to be drug-targets, according to a recent international collaborative study, which Centre for Genomic Sciences at Li Ka Shing Faculty of Medicine, The University of Hong Kong (HKU) joined. This is the first report showing that genetic evidences from genome-wide association studies (GWAS) can benefit drug-targets selection, and will greatly benefit patients in the future. The work has been published in the latest issue (August 2015) of Nature Genetics (47, 856–860 (2015)).

Significance of research
Dr Wang Junwen John, Associate Professor of Centre for Genomic Sciences, Li Ka Shing Faculty of Medicine, HKU, said, "The medical sector has long believed that genetic evidences can be used to boost drug development process, but the assumption has never been proved with concrete data. Here we use massive pharmaceutical and genetic data from both industrial and academic communities accumulated over the past decade, to prove this assumption. We believe this result of the study will influence drug development strategy, speeding up drug development pipeline, and eventually benefiting the patients. With this evidence, pharmaceutical companies should focus their drug-targets more on the genes or proteins with genetic evidences, including disease genes of GWAS and disease genes of mendelian disorders, which can significantly improve their productivity. This work mainly utilised GWASdb database, which was developed and has been maintained for five years by our bioinformatics team, and is a perfect example of how basic research can contribute to the medical and pharmaceutical industry." The research also indicates that ten years' endeavor on GWAS will be applied to the pharmaceutical industry and the cutting-edge of precision medicine.

Research methods and findings

In this study, researchers combined the disease associated variants in GWASdb and GlaxoSmithKline (GSK) drug-target-indication pipeline, and applied statistical methods to investigate how well the current archive of genetic evidence predicts drug mechanisms. The study shows that, among well-studied indications, the drug-targets with direct genetic support increase significantly as the drug development progresses.

There are two main findings on this research. First, by comparing the drug-target-indication information on Preclinical, Phase I, Phase II, Phase III clinical and FDA-approved drugs, the percentage of drug-target-indication pairs with genetic support increases from 2.0% at the preclinical stage to 8.2% for approved drugs. The success rate for drug development can be raised if there are supporting evidence for the association between drug-targets and diseases. Second, choosing drug-targets with genetic support will double the chance for drugs to reach drug approval stage from Phase I clinical trials (especially from Phase II to Phase III), and the lack of genetic support had the greatest impact on the failure of the development of drugs. Therefore, finding the right molecular target and the mechanism on how the target affects disease prognosis is critical to successful drug development.
Research background

Since 2005, research communities have invested several billion US dollars in GWAS to study traits or diseases association with human genetic variants. The bioinformatics lab of Dr Wang has started to develop GWASdb and its associated tools since 2010, and published GWASdb on premier journal Nucleic Acids Research 2012 Database Issue, with more than 70 citations till now. To date, GWASdb totally collected 252,530 traits or diseases associated human genetic variants, together with detailed annotations, from more than 2,400 published GWAS (see figure 1). It covers the highest number of GWAS publications in the field. More and more researchers have applied the results of GWAS to clinical and drug development.

About the team

The international collaborative study was conducted by Professor Sham Pak-chung, Clinical Chair Professor of Centre for Genomic Sciences, and bioinformatics team of Dr Wang Junwen John, Associate Professor of Centre for Genomic Sciences at Li Ka Shing Faculty of Medicine, HKU, together with GlaxoSmithKline (GSK) and Columbia University, United States. Professor Sham Pak-chung and team of Dr Wang Junwen John have made long-term commitment to the use of genetic data in biology to study biological phenomena and the development of new algorithms and database in the genetics and genomics field. Professor Sham Pak-chung and his student had developed the most commonly used statistical software PLINK for GWAS studies, which has achieved more than 8,800 citations. The main research areas of Dr Wang include functional annotation and prediction of genetic variation sites, transcriptional regulatory network construction and cancer genomics. Dr Wang was awarded the Outstanding Young Researcher Award of HKU in 2012. He has published more than 50 articles in international journals during the seven years of great work in HKU. The team's research was funded by Research Grants Council, Health and Medical Research Fund of Hong Kong, and National Natural Science Foundation of China.

Please visit the website at http://www.med.hku.hk/v1/news-and-events/press-releases for press photo.