Back
Establishment of New Telescope Network in Antarctica
11 Mar 2015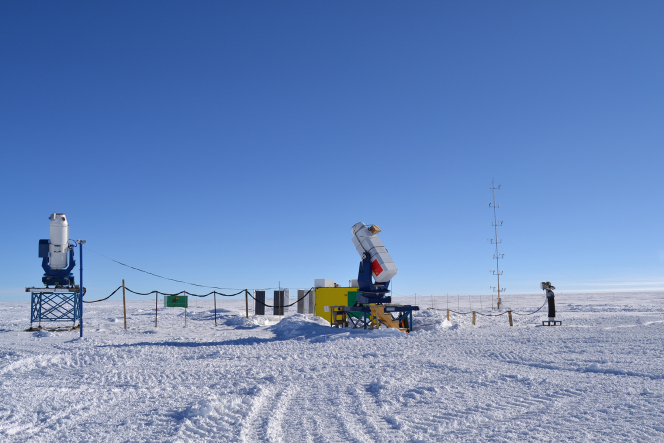 The recently established AST3 telescopes at Dome A, Antarctica.
Antarctic research is one of the highest science research priorities of China. Supported by the coastal station Zhongshan, China has established a permanent research station (Kunlun) at Dome A, the highest point of the Antarctic Plateau. As part of the Antarctic research programme, China has been developing a network of telescopes on Dome A with the goal of detecting transient objects and searching for supernovae and Earth-like exoplanets. The first telescope AST3-1 was successfully installed in 2012 and the second telescope AST3-2 was installed in 2015.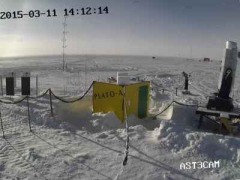 Earlier pioneering work by the international team of astronomers established the Dome A site as world's best site for
ground-based astronomy. The recently installed facilities take advantage of the continuous dark time during austral winter in Antarctica. Unlike telescopes at a temperate site where observations are subject to the day-night modulation, the telescopes at Dome A are uniquely positioned to provide non-interrupted observations of astronomical objects. The data collected from this unusual observatory may lead to a wide range of astronomical discoveries such as planets outside the solar system and stellar explosions at distances billions of light years away.

The Dome A site, being the coldest spot on the surface of the earth, reaches temperatures about -80 degree centigrade. It is currently too harsh an environment for any human to stay over the winter. All facilities at the site are autonomously operated. Power for the telescopes and satellite communications are provided by PLATO, an observatory system provided through a collaboration with Australian astronomers.
Around 40 scientists and researchers gather at HKU
for the 2015 International Collaboration Meeting on Antarctic Survey Telescopes.
To review the progress and facilitate the plans for future operations, researchers gathered at the annual International Collaboration Meeting on ATS3 in HKU from March 9 to 11, 2015. The meeting is hosted by Professor Sun Kwok, Dean of HKU Science, and chaired by Dr. Li-Fan Wang, Director of the Chinese Center for Antarctic Astronomy.

More information of the international collaboration meeting can be viewed at: http://www.scifac.hku.hk/event/AST3/

For press enquiry, please contact Ms Cindy Chan, Senior Communication Manager of HKU Faculty of Science at 3917 5286 / 67030212 or email: cindycst@hku.hk