Back
HKU confers Honorary Degrees upon six outstanding individuals at the 188th Congregation
14 Mar 2013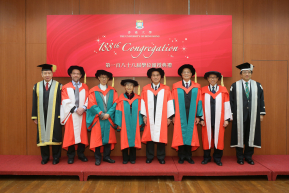 (From left) HKU Pro-Chancellor Dr David Li Kwok Po, Professor Alec John JEFFREYS, Dr Rocco YIM Sen Kee, Professor Fan Jinshi, Professor Mai Yiu-wing, Professor WANG Shenghong, HKU Council Chairman Dr Leong Che-hung and HKU Vice-Chancellor Professor Lap-Chee Tsui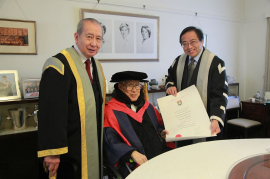 HKU Pro-Chancellor Dr David Li Kwok Po and Vice-Chancellor Professor Lap-Chee Tsui present the Doctor of Laws honoris causa certificate to Dr Patrick Yu at his home on March 17

The Pro-Chancellor of the University of Hong Kong (HKU) Dr the Honourable David Li Kwok Po conferred today (March 14) honorary degrees upon six outstanding individuals at the University's 188th Congregation.
The six Honorary Graduates are:
Doctor of Laws honoris causa
Patrick YU Shuk Siu (in absentia)
Doctor of Science honoris causa
Alec John JEFFREYS
MAI Yiu Wing
Doctor of Social Sciences honoris causa
FAN Jinshi
WANG Shenghong
Rocco YIM Sen Kee
Professor Sir Alec Jeffreys delivered the acceptance speech on behalf of the Honorary Graduates. A distinguished geneticist and internationally respected pioneer in DNA fingerprinting, Sir Alec said the honour was a recognition of the work of him and his team.
"I am delighted to accept this honorary degree not so much for myself but for all my colleagues who helped turn a crazy dream of DNA-based identification into a technology that has now spread to every corner of the world and directly touched the lives of tens of millions of people." He said.
Sir Alec recalled that when he first started his DNA research in the early 1980s, it was entirely curiosity-driven and he was asking basic questions about the nature of DNA variation with the vague expectation that it might deliver something of practical use in medicine.. The subsequent development of DNA fingerprinting has been amazing and its impact on the various aspects of life has been deep and widespread.
"Prof Mai Yiu Wing's work on materials science is outstanding, and it may be of some interest that DNA has now entered even this field, particularly as a material for constructing elaborate nano-structures and nano-devices.
"Prof Fan Jinshi's archaeological work is fascinating, and needless to say, DNA now plays an integral part in this field in terms of analysing ancient remains. Prof Wang Shenghong has made major contributions to electronics, including radio telescopes, which I hope will fulfill one of my great dreams, namely the eventual discovery of life beyond Earth." He added.
Meanwhile, in a ceremony held in his home, Mr Patrick Yu Shuk-siu was formally presented with his Honorary Degree by Pro-Chancellor Dr David Li Kwok Po and Vice-Chancellor Professor Lap-Chee Tsui on March 17 (Sunday).

Honorary Degrees are awarded to individual who have made valuable intellectual, social and cultural contributions to society and the world.
For the citations of the Honorary Graduates and more details about the ceremony, please visit: http://www4.hku.hk/hongrads/index.php.

For media enquiries, please contact: Ms Trinni Choy (Assistant Director (Media), Communications and Public Affairs Office) tel: 2859 2606 / email: pychoy@hku.hk or Ms Melanie Wan (Senior Manager (Media), Communications and Public Affairs Office) tel: 2859 2600 / email: melwkwan@hku.hk.