Back
HKU furthers collaborative ties with Mainland research institutes
10 Mar 2013
The University of Hong Kong (HKU) has been engaged in a number of projects for further collaboration with its partner research institutions in the Mainland.
On February 1, 2013, a draft agreement on "HKU-Zheda-Tsinghua collaborative research and innovation lab on infectious disease treatment" was signed with Zhejiang University and Tsinghua University Beijing to cooperate together with the Chinese Center for Disease Control and Prevention, and other Mainland research institutes and academics in areas of knowledge and talent exchanges, postgraduate students training and sharing of research resources.
On February 6, an opening Ceremony was held for the Hong Kong-Guangdong Joint Laboratory on Stem Cell and Regenerative Medicine, which is established at the HKU Li Ka Shing Faculty of Medicine and co-managed by Guangzhou Institutes of Biomedicine and Health (GIBH) under the Chinese Academy of Sciences and HKU. With an aim to better human health, the laboratory will facilitate knowledge exchange and will promote collaborations between HKU and GIBH researchers, as well as will further advance the clinical research on stem cell and regenerative medicine.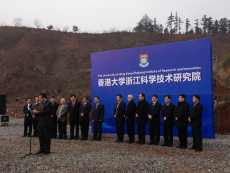 On February 16, a Foundation Stone-Laying Ceremony of the University of Hong Kong Zhejiang Institute of Research and Innovation (HKU-ZIRI) cum Tree Planting was held at Qingshanhu Science and Technology City in Lin'an of Zhejiang. HKU Vice-Chancellor Professor Lap-Chee Tsui, Pro-Vice-Chancellor Professor Paul Tam, Associate Vice-President Professor Paul Cheung, Dean of Engineering Professor Norman Tien attended the various activities, and had Secretary of CPC Hangzhou Municipal Committee Mr Huang Kunming joined the Tree Planting.
Professor Tsui officiated at the ceremony and said: "As the extension of the research capabilities of the University to the Chinese Mainland, HKU-ZIRI is supposed to carry forward the university's vision to contribute to the advancement of society and the development of leaders through a global presence, regional significance and engagement with the rest of China.
"HKU-ZIRI will provide research and development in high-end and cutting-edge disciplines, support and enhance the capacity of independent innovation," he added.
HKU-ZIRI was incorporated in December 2012 with the support from CPC Zhejiang Provincial Committee, Zhejiang Provincial People's Government, Science Technology Department of Zhejiang Provincial People's Government, Hangzhou Municipal People's Government and Lin'an Municipal People's Government. HKU will set up the HKU-ZIRI headquarter. The first three R&D laboratories of the institute will be led by the Faculty of Engineering. It has been planned that by 2016, HKU-ZIRI will be expanded to have a total of six world-class research laboratories, joint laboratories or projects with enterprises, attracting talents in science and technology both within the Mainland and overseas.
HKU-ZIRI will play a significant role in strengthening the partnership with Yangtze River Delta, and contributing to the promotion of innovation and incubation of new hi-tech industries of strategic importance, as well as the transformation of the industries in Zhejiang, with a view to contributing to the economic and social development of the Mainland through research.
The three R&D laboratories of HKU-ZIRI
Research Laboratory for Industrial Internet-of-Things (Chief Scientist: Professor George Huang from Industrial and Manufacturing Systems Engineering)
Research Laboratory for Industrial Internet-of-Things aims to strengthen the partnership between IoT (Internet of Things) and traditional industry chain to improve their integrity. Through the industrial IoT technology, the laboratory aims to explore a new way to improve and upgrade the traditional manufacturing industry in Zhejiang.
Research Laboratory for Nanofluids and Thermal Engineering (Chief Scientist: Professor Liqiu Wang from Mechanical Engineering)
Laboratory for Nanofluids and Thermal Engineering will follow the latest trend of nanofluids and thermal engineering development, focusing on the fundamental and innovative R&D of its theory, data simulation, experiments, and applications. The research will push forward the development highly efficient energy industry and low-carbon economy in Zhejiang, so as to realize the fast sustainable development.
Research Laboratory for Aerodynamics and Acoustics (Chief Scientist: Professor Lixi Huang from Mechanical Engineering)
Research Laboratory for Aerodynamics and Acoustics aims to transfer aviation technology into productive force. The laboratory will help push forward the advancement of the equipment in energy power, environmental materials of sound absorption in construction and electrical products muting design of enterprises in Zhejiang. The laboratory also expects to enhance Zhejiang to obtain a niche in the related high-tech area.
For media enquiries, please contact: Ms Trinni Choy (Assistant Director (Media), Communications and Public Affairs Office) tel: 2859 2606 / email: pychoy@hku.hk or Ms Melanie Wan (Senior Manager (Media), Communications and Public Affairs Office) tel: 2859 2600 / email: melwkwan@hku.hk.