Back
HKU Salutes Distinguished Academics for Teaching and Research Excellence
28 Jan 2010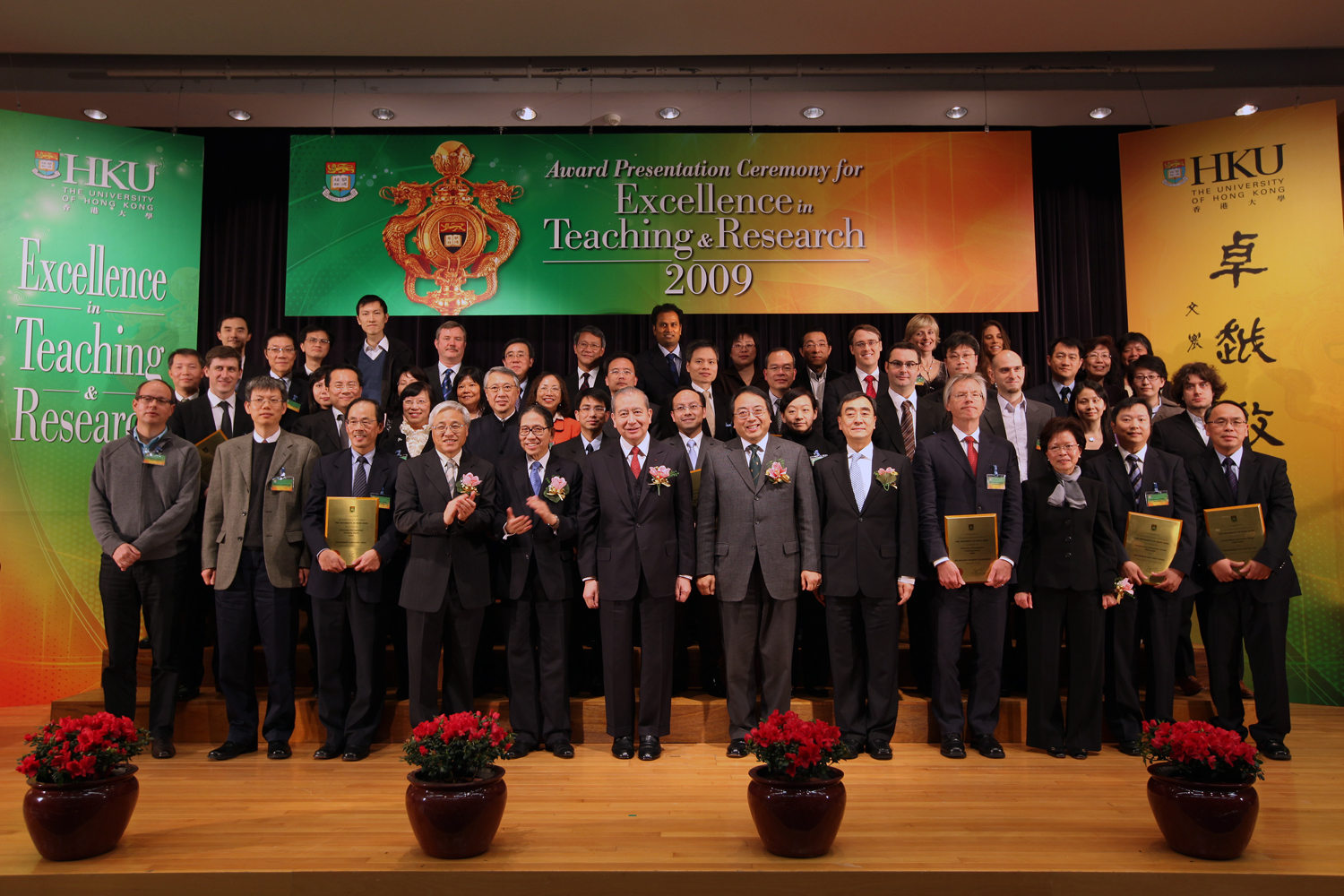 HKU Award Presentation Ceremony for Excellence in Teaching and Research
The University of Hong Kong (HKU) held its Award Presentation Ceremony for Excellence in Teaching and Research 2009 today (January 28) to honour its faculty members for their dedication and outstanding achievements in teaching and research.
HKU Pro-Chancellor Dr the Honourable David Li Kwok Po, the ceremony's Guest of Honour, Vice-Chancellor Professor Lap-Chee Tsui, together with over 200 guests shared the moments of pride and joy with the awardees.
Speaking at the opening of the ceremony, Professor Tsui reiterated the mission of the University in pursuing excellence in teaching and research. He said: "Today's ceremony brings us together to celebrate the excellent achievements that our colleagues have demonstrated in teaching and research. As well as giving due recognition to these accomplished individuals, we also wish to thank them for their significant contribution to HKU and beyond. Their exemplary performance is an inspiration for all members of our University community."
It is the ninth year the University has held the award ceremony to salute colleagues who excel in their teaching and research as outstanding teachers, researchers, young researchers, research student supervisors, and faculty members who produce outstanding research publications in the 10 Faculties of the University.
This year, two faculty members were honoured for their exemplary performance in teaching with the newly launched University Distinguished Teaching Award. They are Professor Lung-sang Chan of the Department of Earth Sciences, and Mr. Richard Anthony Glofcheski of the Department of Law.
HKU Pro-Chancellor Dr the Honourable David Li Kwok-Po congratulated the awardees in his closing remarks, saying: "These individuals richly deserve recognition for their devotion to teaching and research in their respective fields, for their time and effort in forging new directions and overcoming boundaries, for their academic excellence, curiosity and creativity, and for their contributions to improving the lives of others."
Dr Li paid special tribute to the Vice-Chancellor, who was elected as a Foreign Member of the Chinese Academy of Sciences in November 2009 in recognition of his scientific achievement and important contributions to promoting the development of science and technology in China. Professor Tsui will receive the diploma of Foreign Member from the Academy in June this year.
For media enquiries, please contact: Ms Trinni Choy (Assistant Director (Media), Communications and Public Affairs Office) tel: 2859 2606 email: pychoy@hku.hk or Ms Melanie Wan (Manager (Media), Communications and Public Affairs Office) tel: 2859 2600 email: melwkwan@hku.hk.