Back
HKU Honours Ten Outstanding Individuals as Fellows
22 Sep 2009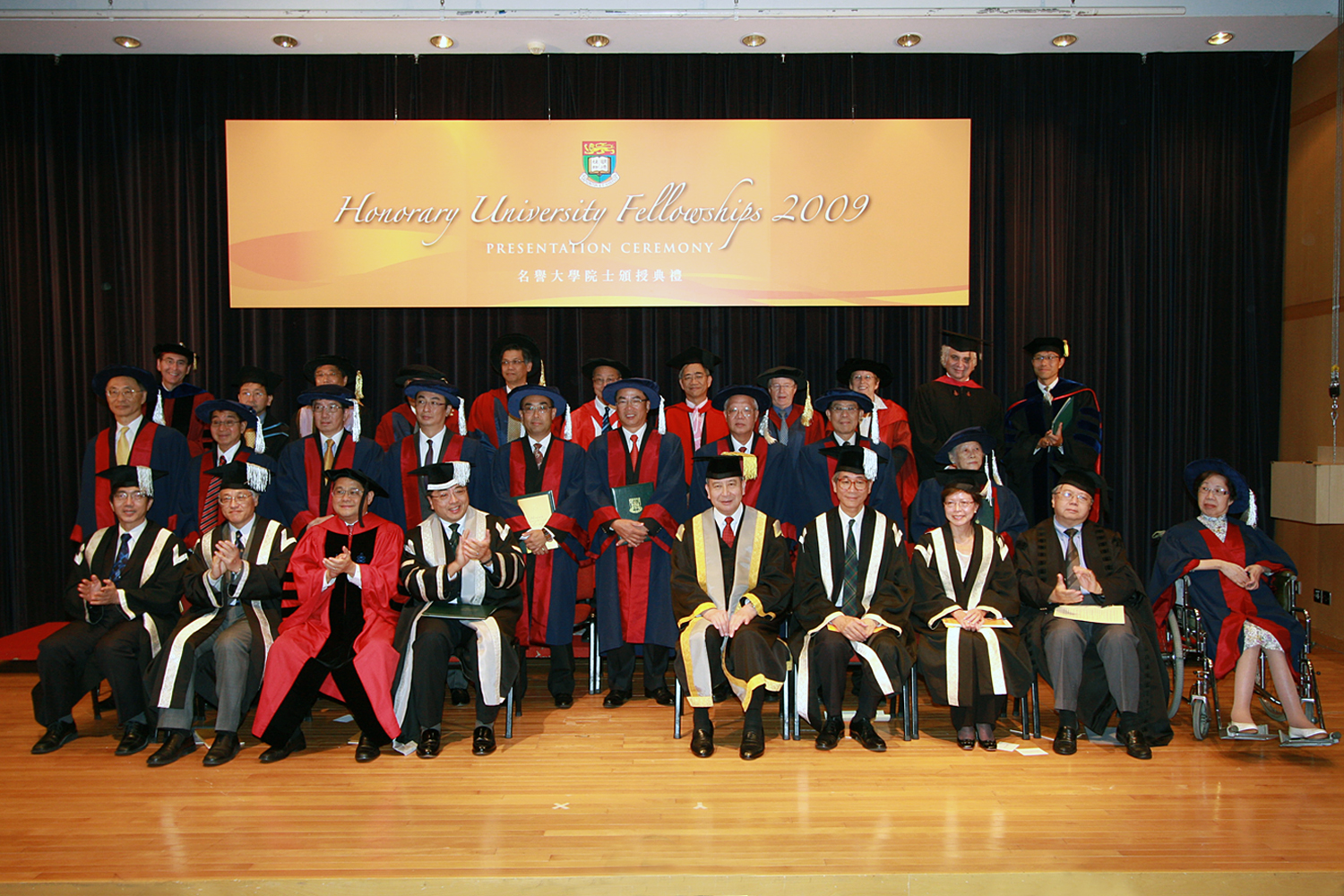 HKU Honours Ten Outstanding Individuals as Fellows
The University of Hong Kong (HKU) held the Honorary University Fellowships presentation ceremony today (September 22), which was presided by Dr The Hon David K P Li, Pro Chancellor of the University.
The University presented the Honorary University Fellowships to ten distinguished individuals, in recognition of their contributions to the University and the community. They are:
1. Ir Francis Shu Ying BONG
2. Dr Tzu Leung HO
3. Mr Kenneth Hing Wai KWOK, SC
4. Mr Peter Ka Kit LEE
5. Mr David Tak Yeung MONG
6. Mr Raymond Ching Fai OR
7. Dr Wilson Kin Lae WONG
8. Ms Catherine Mo Han WOO
9. Professor Enoch Chien Ming YOUNG
10. Ms So Moy YUEN
At the ceremony, HKU Vice-Chancellor Professor Lap-Chee Tsui extended his gratitude and salute on behalf of the University community to the newly-awarded fellows for their important contributions to the University, to academia and to Hong Kong.
"This evening we will be honouring 10 individuals who have shown in thought, and word, and deed, how deeply they appreciate the value of education, and how important the welfare of society is to them." Professor Tsui praised the fellows as "true examples of courage and leadership" who are leading by examples themselves.
The Honorary University Fellowships was established in 1995 to reaffirm the University's link between town and gown.
"The relationship with society is an important part of the University's heritage and the Fellowships are an enduring symbol of this partnership." Professor Tsui said.
For media enquiries, please contact:
Ms Trinni Choy (Assistant Director (Media), Communications and Public Affairs Office) tel: 2859 2606 email: pychoy@hku.hk or Ms Melanie Wan (Manager (Media), Communications and Public Affairs Office) tel: 2859 2600 email: melwkwan@hku.hk.