Back
HKU Finds that Osteoporosis Drug is Associated with
Reduced Risk of Cardiovascular Events in Patients with Hip Fracture
21 May 2018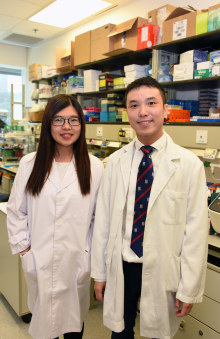 A study led by a team of the Department of Pharmacology and Pharmacy of Li Ka Shing Faculty of Medicine, The University of Hong Kong (HKU), in collaboration with Harvard Medical School, provided the first population-based evidence that the first-line anti-osteoporosis drug, alendronate, was associated with reduced risk of cardiovascular events in patients with hip fracture, compared to non-treatment. The findings are now published in the latest issue of the Journal of Bone and Mineral Research, one of the highest-ranked journals in the field (link to the publication).
Hip fracture and cardiovascular events
Hip fracture is a major health problem in older persons. The figure of the Hospital Authority shows that there were around 11,000 hip fractures in 2016-2017 in Hong Kong. According to the latest study, it is projected that the number of cases will be over 27,000 in 2050 and the direct cost of hip fracture will increase from HK$600 million dollars in 2018 to HK$1.9 billion dollars in 2050. Hip fracture leads to substantial morbidity and mortality, with one-third of the patients dying in the first year following a hip fracture. Cardiovascular events (CVEs) such as myocardial infarction (MI) and stroke are the major causes of death in hip fracture. Thus, there is a clinical concern about preventing or reducing the risk of these life-threatening outcomes.
Drugs for hip fracture
Alendronate is one of several bisphosphonate drugs used as a first-line treatment of osteoporosis to prevent a second fracture in patients who have already sustained an osteoporotic fracture. However, the drug is under-used worldwide, at least in part due to patients' concerns about serious but rare side effects.
In some previous clinical trials of these drugs, cardioprotective benefits were observed on the progression of calcification of blood vessels and even death from cardiovascular events. However, there is limited data on the link between alendronate, one of the most commonly prescribed bisphosphonate drugs, and the risk of CVE. A recent meta-analysis of randomised controlled trials (RCTs) reported a lower risk of cardiovascular death in the use of bisphosphonates but the result was not statistically significant. It is well recognised that RCTs usually have limited number of participants who are rarely representative of the actual patient population who will be taking these drugs. Thus, a large observational study using real-world patients is valuable to extend the findings from RCTs.
Research method
The research team conducted a population-based study using an anonymised territory-wide healthcare database of the Hong Kong Hospital Authority. The aim was to investigate the risk of CVE with and without use of alendronate in patients with hip fracture.
The study included over 30,000 patients with newly diagnosed hip fracture from 2005 through 2013. The team examined the treatment in these patients and matched the alendronate-treated and non-treated patients by propensity scores (a statistical matching technique) to ensure their similarity. The matched patients were followed until November 6, 2016, and their risks of CVE were compared.
Research findings
There were 3,081 alendronate-treated patients and 9,098 non-treated patients in the final analysis. In the first year of follow-up, the team found that 10 treated-patient (0.32%) and 88 non-treated patients (0.97%) died of CVE. The risk of cardiovascular death and heart attacks in treated patients were reduced by 67% and 45%, respectively, compared to non-treated patients. This observed beneficial tendency was observed for up to ten years after treatment.
Significance of the study
This is the first population-based study examining the risk of multiple CVEs with and without alendronate treatment in patients with hip fracture. Patients are commonly under-treated with osteoporosis drugs after hip fracture, even though clinical guidelines recommend treatment. This study highlights the importance of alendronate treatment after hip fracture, encouraging its use in clinical practice. In addition, as newer osteoporosis drugs are developed, they may be compared with existing drugs such as alendronate that might have cardioprotective benefits. This has the potential to produce false findings of an increased risk of CVE in the experimental drug, a result with important implications for drug approval by regulatory agencies.
The study was funded by the Research Grant Committee and the Health and Medical Research Fund.
About the research team
This study was led by Dr Ching-lung Cheung, Assistant Professor of Department of Pharmacology and Pharmacy, Li Ka Shing Faculty of Medicine, HKU, and collaborated with Professor Douglas P. Kiel, Professor of Medicine, Harvard Medical School and Director of the Musculoskeletal Research Center at the Institute for Aging Research, Hebrew SeniorLife. Other HKU researchers included Professor Ian Chi-kei Wong, Head, Lo Shiu Kwan Kan Po Ling Professorship in Pharmacy, Department of Pharmacology and Pharmacy; Professor Annie Wai-chee Kung, Honorary Clinical Professor of Department of Medicine; Dr Chor-wing Sing, PhD student of Department of Pharmacology and Pharmacy; Dr Angel Yun-sum Wong, PhD student of Department of Pharmacology and Pharmacy; Dr Esther Wai-yin Chan, Associate Professor of Department of Pharmacology and Pharmacy; Dr. Joanne King-yun Lam, Honorary Clinical Assistant Professor of Department of Medicine; Dr. Tommy Tsang Cheung, Clinical Assistant Professor of Department of Medicine; and Dr. Elaine Yan-ning Cheung, Senior Medical Officer of United Christian Hospital, Hong Kong.
Media enquiries
Please contact Li Ka Shing Faculty of Medicine of The University of Hong Kong by email (medkefa@hku.hk).
Please visit the website at http://www.med.hku.hk/news/ for press photos.