Back
The Centenary Tai Tam Tuk Reservoir
HKU scholar unveils the construction history of Asia's first great dam
21 Feb 2018
The year 2018 marks the centenary of the construction completion of the Tai Tam Tuk Reservoir Dam, which was the largest in scale among the British Commonwealth upon its completion.
The Dam was built as a major project of the Tai Tam Reservoir Scheme which comprised the construction of the largest group of reservoirs on the Hong Kong Island between 1883 and 1918. By far, many of these heritage waterworks have been declared as monuments by the Hong Kong SAR Government.
Tai Tam Harbour is situated at the estuary of Tai Tam Tuk on the south-east of the Hong Kong Island. Tai Tam Tuk Reservoir is the last but the largest of the four impounding reservoirs of Tai Tam Waterworks Scheme. Also known as Tai Tam Reservoir Group, the four reservoirs boast a total freshwater storage capacity of 6.2 million cubic metres.
The construction of the Tai Tam Tuk Reservoir Dam (the Dam) was first proposed in the late nineteenth century but was postponed because of the sophisticated ground conditions and the lack of finance. In the sea still remained the original hand-dug caissons at Tai Tam Harbour – by far the only archaeological evidence of ground investigation carried out more than one hundred years in Hong Kong.
Before the reservoirs were built, the route from the city to Tai Tam Tuk was one of the most beautiful trails for tourists in the nineteenth century. Still today, the route connecting the reservoirs constitutes one of the most well-travelled heritage trails in Hong Kong for both local and overseas country park trekkers.
The construction of the impounding reservoir had led to the re-settlement of the Tai Tam Tuk Villagers and the first-ever submerged village during reservoir construction in Hong Kong. Dr. James Hayes had interviewed a couple of villagers, the findings of which were recorded in his book "The Rural Communities of Hong Kong – Studies and Themes", published in 1983.
The Dam was completed in October 1917 and the memorial stone was laid in February 1918. The research team of Dr Poon Sun-wah at the Department of Real Estate and Construction of the University of Hong Kong first discovered the enriched history of the reservoir dam when they investigated the history of quarrying in Hong Kong, a project funded by Lord Wilson Heritage Trust. There are also newly identified pieces of evidence which provide the missing link of the Dam construction. For example, the remains of To Tei Wan quarry designated to supply the granite for the construction and the pier at Tai Tam Harbour are just a significant few.
The findings not only demonstrate the built heritages but also the people involved directly or indirectly with the Dam construction. Five groups of people are featured, including:
• The descendants of original villagers of the submerged Tai Tam Tuk Village
• The fishermen with many of their boats anchored at Tai Tam Harbour. Some descendants are still earning their livelihood at Tai Tam.
• The Engineer and Site Work Overseers during the design and construction of the Dam. Mr. Daniel Joseph Jaffe, the project's engineer-in-charge, was instrumental in the design and construction of the Dam. Jaffe Road in Wan Chai was named after him to acknowledge his contributions following completion of the Wan Chai reclamation in the 1930s.
• Hundreds of workers and quarry workers during the construction of the Dam. The location of their quarters downstream of the Dam was identified and their life style unveiled from the remains.
• Residents in Tai Tam Harbour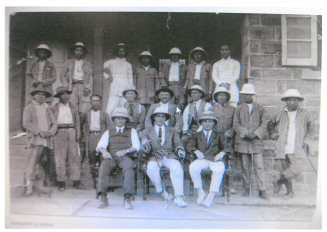 The project's engineer-in-charge Mr. Daniel Joseph Jaffe (middle in first row)(source: Sylvia, the granddaughter of D.J.Jaffe, from Website of Gwulo)
For media enquiries, please contact Dr Poon Sun-wah, email: swpoon@hku.hk; or Ms Melanie Wan, Communications and Public Affairs Office, HKU, tel: 2859 2600/ email: melwkwan@hku.hk