Back
Tam Wing Fan Innovation Wing: A Gift to the Young Generation
07 Feb 2018
Born and bred in Hong Kong, Mr Tam Wing Fan Edmund was among the first cohort of Architecture students admitted to the Faculty of Engineering of The University of Hong Kong in 1950. At that time, the Department of Architecture was housed in the Engineering Faculty.
His wife, Mrs May Tam, says that her husband has always treasured his time at the University and is proud to be an HKU alumnus. He has been able to apply what he learnt during his studies and has enthusiastically contributed to society throughout his life. He hopes that future generations of students will be able to benefit from their studies at HKU as he has, and is making a gift of HK$100 million to his alma mater to establish an Innovation Wing in support of the experiential learning activities of Engineering students. In recognition of Mr and Mrs Tam's generous gift, the University has named the infrastructure the "Tam Wing Fan Innovation Wing".
The Tam Wing Fan Innovation Wing (Inno Wing) will serve as an iconic landmark of the Faculty of Engineering. Home of future cutting-edge research projects, the Inno Wing will provide an open environment to foster multidisciplinary innovation among students and teachers, enabling generations of students to gain comprehensive knowledge and a deep understanding of the latest discoveries and challenges in a wide range of emerging technologies. It will serve as a platform to engage the young generation in exploring the world, raising their creative and multidisciplinary abilities, and ensuring they acquire the practical hands-on experience they need to serve the community.
The Inno Wing will actively support outreach and service-learning projects for students to apply their knowledge to serve people in need. Knowledge exchange activities, such as public seminars, workshops, and exhibitions, will also be organised. The exhibition gallery of the Inno Wing will showcase research inventions and student achievements to the public.
For media enquiries, please contact: Ms Dora Ng, Faculty of Engineering, HKU (Tel: 3917 4668 / E-mail: doran@hku.hk).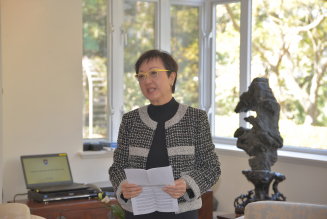 Mrs May Tam hoped that the establishment of Tam Wing Fan Innovation Wing could enrich the learning experience of students.