Back
HKU geologist Zhao Guochun, first Hong Kong scholar to win
TWAS Prize in Earth, Astronomy and Space Sciences
14 Jan 2018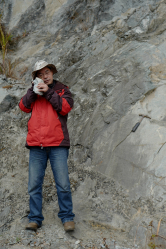 The World Academy of Science (TWAS) in Trieste, Italy has just announced the winners of the 2018 TWAS Prizes, of whom Professor Zhao Guochun from the Department of Earth Sciences, the University of Hong Kong (HKU) was awarded the 2018 TWAS Prize in Earth, Astronomy and Space Sciences for his contributions to our understanding of continental collisional tectonics in Earth's early history and the assembly of the supercontinent Columbia (Nuna) ~1.8 billion years ago. Professor Zhao is the first Hong Kong scholar to be chosen for this award in Earth, Astronomy and Space Sciences.
Professor Zhao is greatly honoured to be receiving this award. He said: "This award will not only be a great motivation as I pursue my future research goals, but will also inspire my students and show them that hard work does get rewarded."
Each year the World Academy of Science awards TWAS Prizes in nine fields: Agricultural Sciences, Biology, Chemistry, Earth Sciences, Engineering Sciences, Mathematics, Medical Sciences, Physics, and Social Sciences. This year, there are 12 prize winners, including three from China, two from Brazil, two from India, and the rest from Argentina, Kenya, Mexico, South Africa and Turkey. Each TWAS Prize carries a cash award of USD15,000. The winners will lecture about their research at TWAS's 28th General Meeting in 2018.
Biography of Professor Zhao Guochun
Professor Guochun Zhao is a full-time professor of Earth Sciences at the University of Hong Kong. Professor Zhao's main research fields are metamorphic petrology, Precambrian geology and supercontinents. His major research achievements are the discoveries of two 1.95-1.85 billion years old continental collisional belts in North China, and the recognition of global-scale 2.0-1.8 Ga collisional events leading to the assembly of a supercontinent. According to ISI Web of Knowledge, Professor Zhao's record in the field of Geosciences includes 320 papers cited by others more than 23,200 times (h-index = 97), ranking number 12 among 3613 top 1% geoscientists. Professor Zhao has received many awards, prizes and honours, including the State Natural Science Award (2nd Class; First Awardee) (2014), Fellow of Geological Society of America (2014), Highly Cited Researcher Award of Thomson Reuters (2014-2017), Outstanding Researcher Award of the University of Hong Kong (2016), 29th Khwarizmi International Award (First Class; 2016), Chair Professorship of Cheung Kong (Changjiang) Scholars Program (2017) and Thousand Talents Plan (Short Term) (2017). Professor Zhao is the Editor-in-Chief of Precambrian Research, a leading international journal in earth sciences.
For more about Professor Zhao, please visit the following websites:
Website: http://www.earthsciences.hku.hk/people/academic-staff/prof-zhao-g-c
G-citations: http://scholar.google.com/citations?user=5gfMg_0AAAAJ&hl=en
HKU Professor Zhao Guochun becomes the first geologist to receive the Khwarizmi International Award (First Class): http://hku.hk/press/press-releases/detail/14245.html
HKU professors Guochun Zhao & Min Sun received the 2014 State Natural Science Award (Second Class Prize): http://www.scifac.hku.hk/news/any/nnsa2014
For details of TWAS announcement on the 2018 TWAS Awards, please visit https://twas.org/article/winners-2018-twas-prizes-announced

Media enquiries:
Communication and Public Affairs Office Ms Rhea Leung (Tel: 2857 8555/ 9022 7446; email: rhea.leung@hku.hk) or
Faculty of Science Ms Cindy Chan (tel: 3917 5286/ email: cindycst@hku.hk ).