Back
First display of North Korea's 20th Century Propaganda Posters in HK
North Korea's Public Face: Twentieth-century Propaganda Posters from the Zellweger Collection Unrolls North Korean Propaganda Art
28 Nov 2017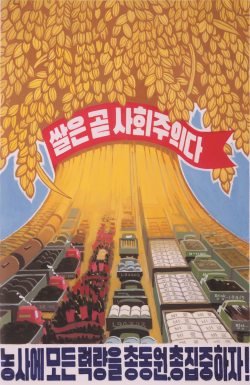 The University Museum and Art Gallery (UMAG) will present North Korea's Public Face: Twentieth-century Propaganda Posters from the Zellweger Collection from November 29, 2017 to January 28, 2018. Organised in collaboration with North Korea scholar and Stanford Fellow Katharina Zellweger, this will be the first display of such material in Hong Kong.
An opening ceremony of the exhibition was held at UMAG today (November 28). Officiating guests included Consul General of Switzerland in Hong Kong and Macau Mr Reto Renggli, Research Fellow of Stanford University Ms Katharina Zellweger and UMAG Director Dr Florian Knothe.

Rice is Socialism!
Stylistically influenced by communist brutalist propaganda and ideologically informed by the core work on North Korean art—Kim Jong Il's 1992 publication Treatise on Art (Misullon)—all of these state-commissioned posters promote 'correct' forms of socialist realism, thereby documenting the socio-political and economic policies communicated from the Leader to the North Korean people. In so doing, daily activities are aligned with political beliefs. For example, the metaphorical configuration of rice farming with the cultivation of socialism.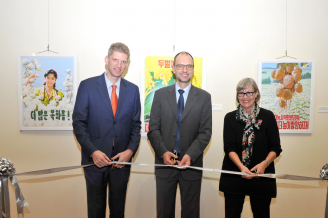 Beyond their overtly ideological character, the posters also confer messages related to practical agricultural technology, industrial and social developments, while portraying a distinctly human picture of the varied urban and rural communities. Altogether, the imagery displayed offers insights into a country that few have visited and from which first-hand information remains sporadic and inconsistent at best.
For more images and captions of the exhibits, please click here.
Details of the Exhibition
Period: November 29, 2017 (Wednesday) to January 28, 2018 (Sunday)
Opening Hours:
09:30 – 18:00 (Monday to Saturday)
13:00 – 18:00 (Sunday)
Closed on University and Public Holidays
Venue: 2/F Fung Ping Shan Building, UMAG, HKU, 90 Bonham Road, Pokfulam
Tel/Email: (852) 2241 5500 (General Enquiry) / museum@hku.hk
Admission: Free
Website: http://www.umag.hku.hk/en/
Connect with UMAG on social media:
Facebook: https://www.facebook.com/umag.hku
Twitter: https://twitter.com/UMAG_HKU
Instagram: #NorthKorea, # PropagandaPoster, #UMAG
Weibo: @香港大學美術博物館UMAG
About University Museum and Art Gallery of the University of Hong Kong (UMAG)
UMAG was founded in 1953 as the Fung Ping Shan Museum. It was originally established as the Fung Ping Shan Library in 1932 in honour of its benefactor. For more information on UMAG, please click here.
Media enquiries
UMAG Programme Assistant Miss Chelsea Choi, Tel: (852) 2241 5509, Email: cchelsea@hku.hk