Back
HKU-Cambridge Undergraduate Recruitment Scheme (Engineering and Computer Science) is launched to nurture global engineering professionals
21 Nov 2017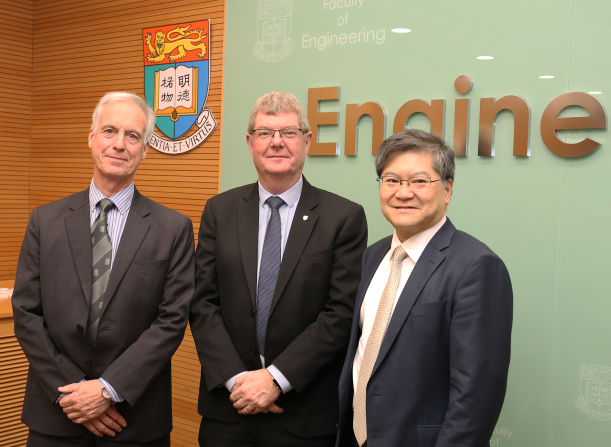 The University of Hong Kong (HKU) is pleased to announce a deeper academic collaboration with the University of Cambridge to nurture global Engineering professionals. Under this HKU-Cambridge Undergraduate Recruitment Scheme (Engineering and Computer Science), students can graduate with three degrees: Two Bachelor degrees from the two universities, and a Master of Engineering from the University of Cambridge upon successful completion of five years of study. Each degree will be awarded by either Cambridge or HKU; there will be no joint degrees awarded as part of this scheme.
This new collaboration between HKU and Cambridge is an extension of the successful "HKU – University of Cambridge Joint Recruitment Scheme for Engineering" which was introduced in 2011.
Professor John Spinks, Senior Advisor to the President and Director of Undergraduate Admissions, HKU, said: "Both HKU and Cambridge attract some of the most talented students in the world to their individual study programmes. Our previous collaboration in Engineering with the University of Cambridge has already proved to be valuable to both universities. Not only have these students been extremely successful in their studies at Cambridge, often topping the examinations, but the first graduating students have been sought by employers in the UK, Hong Kong and Mainland China. The synergy inherent in this collaboration is building a global network of peers, professionals and academic experts."
Under the modified scheme to be introduced with immediate effect, not only will newly enrolled students be able to obtain degrees from the UK and Asia, but they will also be eligible for professional accreditation in both the UK and Hong Kong, subject to the usual institutional process.
With the expansion of multinational engineering firms, there is an increasing demand for engineers with integrated Engineering knowledge. Professor John Kao, Vice-President (Global) of HKU, said: "This extension of HKU's current collaboration with the University of Cambridge represents a mutual commitment to strengthen our institutional ties. It's certainly very exciting for students wishing to study in two of the world's elite universities. The scheme aims to nurture future engineering professionals to have a global mindset, to be able to solve novel problems in a fast-changing environment, and to innovate and develop new solutions. Having an opportunity to study Engineering in both Asia and the U.K., students would be well prepared to manage sophisticated projects across various disciplines and cultures and to develop the critical soft skills needed in the real world. Students will be exposed to specialized engineering technologies, and will also learn from some of the leading professionals in the world."
Professor Graham Virgo, Pro-Vice Chancellor for Education at Cambridge added "The University of Cambridge is committed to recruiting the very best students from around the world to its undergraduate and postgraduate courses. The joint scheme with HKU consolidates its existing undergraduate recruitment activities in Asia, and in the exciting rapidly developing Bay Area of the Pearl River Estuary, in particular."
The new collaborative arrangement requires students to spend their first two years at HKU in the Faculty of Engineering, and the remaining three years at the University of Cambridge in the Departments of Engineering or Computer Science and Technology.
Between 10 and 20 students may be admitted to the Faculty of Engineering at HKU on this new track each year. Depending on their academic performance, HKU will nominate students on this track for admission's assessment by the University of Cambridge. Students will receive pre-interview assessment and admissions interview from Cambridge University.
While some students joining HKU, this coming academic year will be considered for this new scheme, the first cohort of students who can apply directly to HKU under this new arrangement will join the University in 2018. Details of how to apply will be made available later.
"Having studied in both HKU and Cambridge, I would say I'm very fortunate to experience two excellent universities of different styles", said Andy Zhang, alumnus of the 'HKU – University of Cambridge Joint Recruitment Scheme for Engineering". Andy was in the first cohort of this scheme. During his study, he completed a summer internship in Hong Kong with one of the most sought-after hedge fund companies. He assisted in the development of quantitative trading strategies by applying his skills in mathematics and computer science. His software product, based on trading signals or data, will be valuable for the future work of his company. With the help of this internship experience, he was offered a dream job with a trading firm in the City of London even before he had graduated, and is about to start his career with them.
Andy continued, "My summer internship in Hong Kong was introduced by my HKU mentor. This became the cornerstone of my career. Looking back on my five years in college, I realize that the people I met are actually the most valuable outcomes of my education in HKU and Cambridge."

For more information about this Scheme, please visit:
http://www.hku.hk/f/upload/17116/171120_Cambridge-HKU_Engineering_Prog-Fact_sheet-e.pdf
Media enquiry:
Communication and Public Affairs Office Ms Rhea Leung (tel: 2857 8555/ 9022 7446; email: rhea.leung@hku.hk) or Ms Julie Chu (tel: 2859 2437/ 9354 3898; email: juliechu@hku.hk) or
Admissions and Academic Liaison Section, Ms Betsy Lee (Tel: +852 3917 6706/ +852 6373 9927, email: betsylee@hku.hk)