Back
HKU scholar launches new translation app 'Newssary'
A vital resource for interpreting in English and Chinese combining news and glossary
24 Sep 2017
A new app developed by Dr Eva Ng, an Assistant Professor in the Faculty of Arts' School of Chinese, is now available to download on both iOS and Android platforms.
The free app, named 'Newssary' – a combination of 'news' and 'glossary', builds on the extensive bilingual news and current affairs glossary of over 7,700 entries created by Dr Ng and her team as a central feature of her website 'Resources for Interpreting'.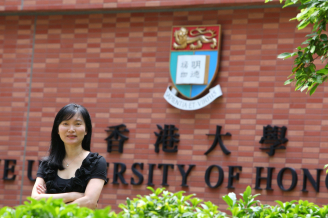 The 'Newssary' app and 'Resources for Interpreting' website were developed by Dr Ng in response to the lack of a regularly updated glossary in English and Chinese. Intended primarily for interpreters and translators with English and Chinese as their working languages, the bilingual glossary is also a vital resource for professionals such as bankers and lawyers, students and teachers, as well as members of the public who wish to improve their bilingual competence in Chinese and English. Key features of the user-friendly app include a fuzzy-logic search engine with input in English or Chinese, notifications of new entries, customized bookmarking and sorting preferences, and games to test users' bilingual competence. In addition to current affairs terminology, the glossary also includes buzzwords and slang.
Dr Eva Ng holds an MA in Translation and Linguistics from the University of Birmingham and a PhD in Forensic Linguistics from Aston University, both in the United Kingdom. Prior to joining the University's School of Chinese, she was a Court Interpreter with the Hong Kong Judiciary. She is the recipient of the Arts Faculty Teaching Excellence Award 2014, and was awarded the Arts Faculty Knowledge Exchange Award 2016 in recognition of the impact of her research on the wider community.
Development of the app and website was supported by the HKU Knowledge Exchange Office and the HKU Technology-Enriched Learning Initiative (TELI). TELI has also produced a video introducing both resources (https://uvision.hku.hk/playvideo.php?mid=21179).
Website link: http://www.interpreting.hku.hk/
Apple Store: https://itunes.apple.com/hk/app/newssary/id1238609778?mt=8
Google Play:
https://play.google.com/store/apps/details?id=interpreting.hku.glossary&hl=en
The 'Newssary' app and 'Resources for Interpreting' website are highly recommended by scholars worldwide
"When I first saw the website, I was sitting alone in my room and I just said, wow, it's so complete, it has everything that an interpreter or anyone who teaches interpreting or anyone who wants to use it for client education would want."
Professor Holly Mikkelson, Professor of Professional Practice at the Graduate School of Translation, Interpretation and Language Education, Middlebury Institute of International Studies at Monterey, USA
"The bilingual glossary alone is a tremendous resource for anyone interested in the most up-to-date terminology for current affairs in a wide range of topics."
Professor Keith McMahon
Professor of Chinese, East Asian Languages and Cultures, University of Kansas, USA
"This is very useful for my research as well as for my teaching."
Dr Xin Liu, Lecturer, School of Foreign Languages, Dalian University of Technology
"[The app] is going to make it even more accessible for interpreting students working between English and Chinese or translation students working between English and Chinese around the world."
Dr Ineke Crezee, Associate Professor in Translation and Interpreting, School of Languages, Auckland University of Technology
Examples of recent popular entries (http://www.interpreting.hku.hk/glossary/)
double incitement 雙重煽惑
hate speech 仇恨言論
kill without mercy 殺無赦
soft lobbying 摸底
Brexit 英國脫歐
Rocket Man 火箭人
Examples of posts by category (11 categories)
Culture and Media
"Face with tears of joy" emoji "笑到喊"表情符號
Greater China Region
"Five Connections of the Silk Road" 絲路五通
International News
"New Normal" 新常態
Local Politics and Policies
"spicy" measures 辣招
Public Health
"silent mentor" 大體老師
Social issues
"nano" flat 納米單位
"Tall Rich Shine" (TRS) 高富帥
Technology, Industry, Transport and Construction
"mom and pop" workshop 家庭式工場
"Innovation Sponge" "創新海綿"
For media enquiries or individual interview requests, please contact Ms Natalie Yip, Executive Officer, Faculty of Arts, Tel: (852) 3917 4984 / email: natalie.yip@hku.hk.