Back
HKU continues to take in the largest majority of HKDSE top scorers in Hong Kong
07 Aug 2017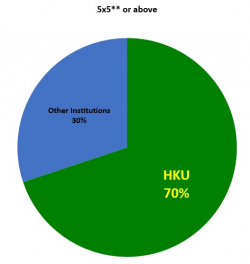 Despite the drop by some 10% in the number of Joint University Programmes Admissions System (JUPAS) applicants this year, the University of Hong Kong (HKU) manages to fill 84% of its first year student places with students with excellent HKDSE results.
HKU continues to take in by far the largest majority of the territory's top scorers. Among the 83 students who have obtained 5** in 5 or more HKDSE subjects, 58 (70%) have gained admission to HKU. In particular, the 5 students with 5** in 7 subjects will enroll in two of the most sought-after programmes at HKU – Bachelor of Medicine and Bachelor of Surgery (MBBS), and the Bachelor of Dental Surgery (BDS).
Being one of the three undergraduate programmes with the highest average score for admission, the MBBS programme admits close to 90% (174) of those students admitted to these three programmes. The HKU MBBS programme has a continuous record over the years of attracting the highest achievers in the territory, and there is no exception this year. The programme admits 41 students (73%) with 5** in 5 or more HKDSE subjects among students admitted to all the medical-related programmes in Hong Kong. 16 out of these 41 students have attained a score of 42 in their HKDSE examinations, making MBBS the programme with the largest number of candidates obtaining a score of 42 among all the medical-related programmes in local institutions.
An HKU spokesperson has indicated that she is delighted, but not surprised, that the University remains the prime choice for Hong Kong's top HKDSE scorers. "In the "best 6" score calculation, the MBBS programme admits 16 and 25 candidates who have achieved a score of 42 and 41 respectively. Their excellent results make them eligible candidates for any programmes in Hong Kong. We are delighted that they have set their eyes on HKU," she elaborated, adding: "While we see a decline in the total number of JUPAS applicants this year, HKU is proud to have maintained not only the number of JUPAS applicants admitted (84% of the incoming cohort), but also the standard of excellence.
We are also grateful to see among our new students, there are students who have overcome hardship and illnesses. We are impressed by their determination and achievements, and believe that they will become invaluable members of our incoming cohort."
The HKU spokesperson stressed that the MBBS programme will continue to offer a six-year curriculum to all students, allowing them to have sufficient time to explore and grow as compassionate doctors with all-roundedness. At the same time, the MBBS programme continues to maintain approximately 75% of its intake to be HKDSE students as a commitment to provide as far as possible opportunities for the DSE students.
Among the students who have applied to law-related programmes, all 7 candidates with 5** in 5 or more HKDSE subjects have been admitted to HKU. Ms Cherry Ho Cheuk-wing, a candidate diagnosed with Brittle Bone Disease, will enroll in the Bachelor of Laws programme. It is hoped that Cherry's experience will encourage other students facing similar challenges to follow their dreams. The University's Centre of Development and Resources for Students (CEDARS) will approach all students with special educational needs to provide support and assistance.
Besides MBBS and law-related programmes, top students have also chosen other HKU programmes as their first choice. For example, the Bachelor of Biomedical Sciences (BBiomedSc) programme, which has become increasingly popular, admits 40% more students through JUPAS with good admission score.
| | | |
| --- | --- | --- |
| Discipline | Programme | Top scorers in Hong Kong |
| Global Business | JS6896 Bachelor of Business Administration in International Business and Global Management | 5** in 6 subjects |
| Biomedical Sciences | JS6949 Bachelor of Biomedical Sciences | 5** in 5 subjects |
| Engineering | JS6963 Bachelor of Engineering | 5** in 5 subjects |
| Arts and Humanities | JS6054 Bachelor of Arts | 5** in 5 subjects |
Other than admitting a good number of top scorers, the overall performance of students admitted to HKU is remarkable. Among all local universities in Hong Kong, HKU has the highest average score in all core HKDSE subjects and score calculation as follows:
| | |
| --- | --- |
| Subject / Score Calculation | Average score of admitted students |
| Chinese Language | 4.70 |
| English Language | 5.09 |
| Mathematics | 5.15 |
| Liberal Studies | 4.81 |
| Best 5 subjects | 26.81 |
| Best 6 subjects | 30.97 |
| 4 core subjects + 2 elective subjects | 30.54 |
HKU also admits 14 outstanding athletes via the HKU Sports Scholarship Scheme with good academic results in different programmes such as medicine, dentistry, engineering, journalism and surveying etc. At the same time, 3 students have also been admitted to HKU via the Multi-faceted Excellence Scholarship Scheme offered by the Home Affairs Bureau.
* HKDSE scores: 5**=7, 5*=6, 5=5, 4=4, 3=3, 2=2, 1=1
Media enquiry:
HKU Communications and Public Affairs Office
Ms Melanie Wan (tel: 2859 2600 email: melwkwan@hku.hk)
Ms Rhea Leung (tel: 2857 8555/ 9022 7446; email: rhea.leung@hku.hk)