Back
Hong Kong in Ink and Colour: Contemporary Chinese Paintings from the University Museum's Collection witnesses the changing cityscape
27 Jun 2017
The University Museum and Art Gallery (UMAG) presents Hong Kong in Ink and Colour, a half-century survey of Chinese paintings from the museum's collection from June 28 to August 27, 2017, with a focus on local artists and their visual testimony of the development of the Fragrant Harbour. All of the selected artworks count among the numerous recent acquisitions received by UMAG. They tell the story of the university's interest in collecting and documenting Hong Kong painters and their work, as well as the story of our community of artists and friends who have donated and thereby contributed to the continued growth of the museum.
An opening ceremony of the exhibition was held at UMAG today (June 27). Officiating guests included Mr Wallace Chang Ping Hung, Associate Professor, HKU Faculty of Architecture and UMAG Director Dr Florian Knothe.
Hong Kong's steady development is mirrored at UMAG by its collection of Hong Kong art. This exhibition exemplifies the fascination of local artists with the ever-changing landscapes and seascapes. Furthermore, the variety of media employed — ink, watercolour and oil — reveals the talents and interest of the artists in exploring various techniques to best record lifelike and abstract depictions.
Over the years documented by a collection of selected paintings, Hong Kong has grown into a celebrated international art scene. Many of the artists exhibited in the collection have contributed to the development of local culture and to the training of aspiring students in Hong Kong and abroad. At the same time their artworks exemplify the materials, techniques and stylistic features that are receptive of, as well as influential in, a diversity of artistic environments.
Details of the Exhibition
Period: June 28, 2017 (Wednesday) to August 27, 2017 (Sunday)
Opening Hours:
09:30 – 18:00 (Monday to Saturday)
13:00 – 18:00 (Sunday)
Closed on University and Public Holidays
Venue: Fung Ping Shan Building, UMAG, HKU, 90 Bonham Road, Pokfulam
Tel/Email: (852) 2241 5500 (General Enquiry) / museum@hku.hk
Admission: Free
Website: http://www.umag.hku.hk/en/
Connect with UMAG on social media:
Facebook: https://www.facebook.com/umag.hku
Twitter: https://twitter.com/UMAG_HKU
Instagram: #ChinesePainting, #ContemporaryArt, #UMAG
Weibo: @香港大學美術博物館UMAG
About University Museum and Art Gallery of the University of Hong Kong (UMAG)
UMAG was founded in 1953 as the Fung Ping Shan Museum. It was originally established as the Fung Ping Shan Library in 1932 in honour of its benefactor. For more information on UMAG, please click here.
Media enquiries
UMAG Communications Officer Miss Elena Cheung, Tel: (852) 2241 5512, Email: elenac@hku.hk
UMAG Programme Assistant Miss Chelsea Choi, Tel: (852) 2241 5509, Email: cchelsea@hku.hk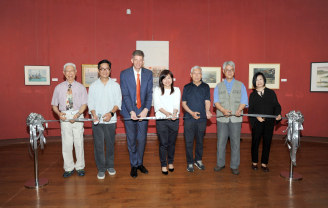 (From left) Ribbon-cutting ceremony by donor of Maytin Kan's work Kan Mi Ki, Associate Professor of HKU Faculty of Architecture Wallace Chang Ping Hung, UMAG Director Florian Knothe, UMAG Associate Curator Fongfong Chen, participating artist Chan Chiu Lung, participating artist Luk Kwok Yuen and participating artist Poon Suk Chun.