Back
Ying Tianqi: What Remains in Ruins
Questioning the ethics of deconstructing architectural heritage
16 Jun 2017
The University Museum and Art Gallery (UMAG) holds an exhibition Ying Tianqi: What Remains in Ruins from June 16 to August 27, 2017, featuring mixed-media work printed with water-soluble ink on paper and oils, video projection and an installation. Juxtaposed here for the first time are the renowned Chinese artist's series—Traces of Centuries and Xidi Village—which present his reflections on the dismantling versus the preservation of historic places, with a focus on the ancient city of Wuhu and Xidi Village in Anhui province. A section of the exhibition examines the visual modes of ruins in an attempt to preserve the memory of deconstructed sites, along with the related physical and cultural heritage.
An opening ceremony of the exhibition was held on June 15 (yesterday) at UMAG. Officiating guests included participating artist Professor Ying Tianqi, Head of Division of Architectural Conservation Programmes, Faculty of Architecture of HKU Dr Lee Ho-yin and Director of UMAG Dr Florian Knothe.
Ying Tianqi was born in 1949 in Wuhu, a city located in southeastern Anhui Province. The public presentation of these artworks translates the artist's nostalgia for and contemplation of two unique and emotionally charged ancient sites in Anhui province that are celebrated for their historic architecture. Within his visual language, images of ruins are embedded in abstract or geometric forms with textural surfaces and colours that inspire associations with architectural frames and fragments, as well as traces of bricks and tiles from Anhui's architectural heritage.
Both an artist and activist, Ying Tianqi continues to be socially engaged in the process of heritage preservation and the reconstruction of the ancient city of Wuhu. In 2014, his heritage proposal to the government was centred around the concept of 'Remains—Rebirth'. As part of this initiative, he mobilised thousands of villagers to retrieve bricks in order to rebuild his home town. Through this action he directly questioned the widely accepted practice of re-building rather than conserving and restoring built environments. The UMAG exhibition visually and critically contemplates decay and reconstruction, bridging the past and the future.
The exhibition will be accompanied by a programme of lectures, guided tours and workshops highlighting aspects of the transformation of our ever-developing built environments.
Details of the Exhibition
Period: June 16, 2017 (Today) to August 27, 2017 (Sunday)
Opening Hours:
09:30 – 18:00 (Monday to Saturday)
13:00 – 18:00 (Sunday)
Closed on University and Public Holidays
Venue: 1/F, T.T. Tsui Building, UMAG, HKU, 90 Bonham Road, Pokfulam
Tel/Email: (852) 2241 5500 (General Enquiry) / museum@hku.hk
Admission: Free
Website: http://www.umag.hku.hk/en/
Connect with UMAG on social media:
Facebook: https://www.facebook.com/umag.hku
Twitter: https://twitter.com/UMAG_HKU
Instagram: #YingTianqi, #TracesOfCenturies, #XidiVillage, #UMAG
Weibo: @香港大學美術博物館UMAG
About University Museum and Art Gallery of the University of Hong Kong (UMAG)
UMAG was founded in 1953 as the Fung Ping Shan Museum. It was originally established as the Fung Ping Shan Library in 1932 in honour of its benefactor. For more information on UMAG, please click here.
Media enquiries
UMAG Communications Officer Miss Elena Cheung, Tel: (852) 2241 5512, Email: elenac@hku.hk
UMAG Programme Assistant Miss Chelsea Choi, Tel: (852) 2241 5509, Email: cchelsea@hku.hk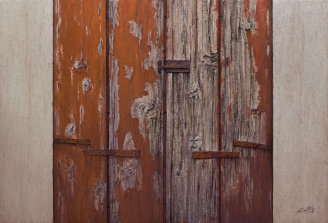 Wooden Wall No. 3 2014
Mixed media on wood (gypsum, emulsion, marble glitter, oil and
wood veneer)
122 x 178 cm
Chang'an Avenue No. 4 2015
Mixed media on wood (gypsum, emulsion, marble glitter, oil and
gold foil)
190 x 122 cm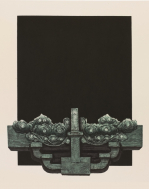 Rendition of Xidi Village Series No. 5 1991
Mixed media printed
with water-soluble ink on paper
52 x 45 cm