Media
Back
(CANCELLED) Pianistic Poetry: Nikolai Lugansky in Recital
21 Mar 2017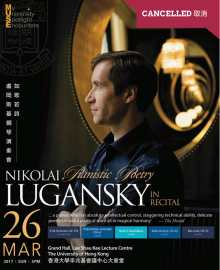 Date: 26/3/2017 (Sunday)
Venue: Grand Hall, Lee Shau Kee Lecture Centre, The University of Hong Kong
We regretfully announce that "Pianistic Poetry: Nikolai Lugansky in Recital", originally scheduled to take place on 26 March 2017 (Sun) at HKU's Grand Hall, will be cancelled.
A message from Nikolai: "I'm so sorry for not being able to come to HKU to play my recital because of current health problems. Especially as this was my first time back in Hong Kong since 1994, soon after the 10th Tchaikovsky Competition! I had such nice impressions and feelings about this wonderful city and its music fans, so I've always wanted to play here again. It's such a pity I cannot come this time, but I hope to find another date to meet with the Hong Kong classical music audience as soon as possible!"
Please accept our apologies for the disappointment and inconvenience caused. Tickets purchased will be refunded. Thank you for your understanding and we appreciate your continued support!
REFUND ARRANGEMENTS
www.muse.hku.hk

ENQUIRIES
HKU Cultural Management Office
Tel: (852) 3917 8165
Email: museinfo@hku.hk