Back
HKU President speaks on HKU gender equity measures at United Nations Women's HeForShe meeting
21 Sep 2016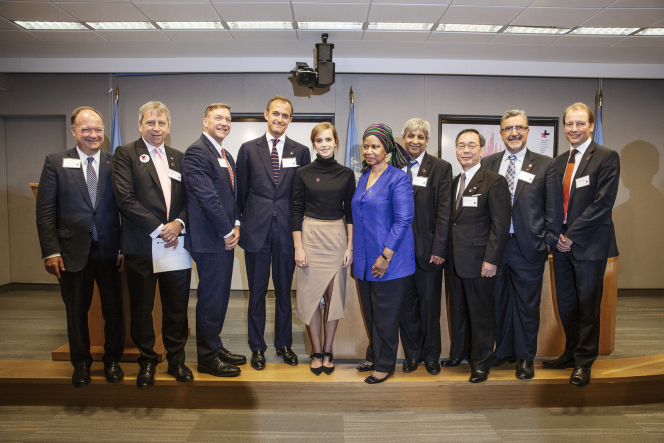 The HKU President and Vice-Chancellor Professor Peter Mathieson (second from left) with Executive Director of UN Women Phumzile Mlambo-Ngcuka (fifth from right); Global Goodwill Ambassador of UN Women Emma Watson (fifth from left) and university leaders from Georgetown University, USA; Stony Brook University, USA; Sciences Po, France; University of the Witwatersrand, South Africa; Nagoya University, Japan; University of Waterloo, Canada and University of Leicester, UK.
The President and Vice-Chancellor of the University of Hong Kong (HKU) Professor Peter Mathieson today (September 21, 2016, HKT) outlined various initiatives to promote gender equity and diversity at HKU as he spoke at the second anniversary of United Nations Women's HeForShe Initiative, IMPACT 10x10x10 Champions in New York City during the 2016 UN General Assembly.
The HeForShe movement is a United Nations initiative on gender equality. The Impact Group 10x10x10, of which Professor Mathieson is a member, comprises 10 Heads of State, 10 CEOs of global corporations and 10 University Presidents.
The occasion also marked the launch of the HeForShe IMPACT 10x10x10 University Parity Report, which is the first progress report since the 10 global universities publicly announced transformative commitments to achieve gender parity by 2020.
Addressing the audience in his capacity as a University IMPACT Champion, alongside world leaders, change-makers, activists and celebrities, Professor Mathieson gave a short account of the gender equity and diversity initiatives planned and initiated by HKU, which was the first university worldwide that launched the HeForShe movement on campus in April 2015.
He said: "We're taking some very specific measures to advance women academics, which include: although not yet adequately, improving the gender balance of the senior teams considerably; improving maternity leave provision, addressing the need for breastfeeding facilities, aiming to open our own nursery; and starting to reform our processes around hiring of staff, their promotion and tenure decisions etc. to ensure gender equity."
For students, HKU will create HeForShe Impact Scholarships for female students from the world's most economically deprived nations, as defined by the UN Human Development Index, and fully fund them for study at HKU: five in year one, ten in year two, fifteen in year three and twenty in year four.
"We are generally raising the profile of gender equity with a series of events on campus, often in collaboration with like-minded NGOs or charities. We can't do this alone. Locally in Hong Kong and Greater China, we have taken the lead in publicly addressing gender inequity, aiming to work with other universities in the region and with corporate sector organizations, especially (but not only) those that are also signed up as HeForShe impact champions or participants. Being part of HeForShe is an opportunity to learn as well as an opportunity to share: I'm enjoying hearing what my counterparts have been doing, and keen to hear more," added Professor Mathieson.
In HKU's section of the Report, the proportion of females at senior leadership level is quoted at 14% (the proportion has increased to over 20%), tenured professors 18%, full-time Faculty 44%, graduate level 53% and undergraduate level 54%.
"We need culture change, system change, sustainable long-term policy change and the shared commitment to truly make a difference. I will continue to do my best to contribute," said Professor Mathieson.
For more about the HeForShe initiative, go to http://www.heforshe.org/en.

For the launch the HeForShe IMPACT 10x10x10 University Parity Report, go to:
http://webtv.un.org/media/press-conferences/watch/launch-the-heforshe-impact-10x10x10-university-parity-report-press-conference-20-september-2016/5133660401001.
For more about the HeForShe initiative at HKU, go to http://hku.hk/about/policies_reports/HeForSheatHKU.
For media enquiries, please contact: Ms Trinni Choy (Assistant Director (Media), Communications and Public Affairs Office) tel: +852 2859 2606 email: pychoy@hku.hk or Ms Melanie Wan (Senior Manager (Media), Communications and Public Affairs Office) tel: +852 2859 2600 email: melwkwan@hku.hk.