Back
The University of Hong Kong and the University of Sydney forge strategic partnership to tackle global challenges
06 Sep 2016
The University of Hong Kong (HKU) and the University of Sydney sealed a partnership on September 6, 2016 (today) to foster greater collaboration in research, teaching and learning, and knowledge exchange.
A delegation from the University of Sydney travelled to Hong Kong for the partnership signing, including Vice-Chancellor and Principal Dr Michael Spence, Pro-Vice-Chancellor (Global Engagement) Professor Katherine Belov, Director of the China Studies Centre Professor Jeffrey Riegel, and two academics with existing research collaborations with HKU – Head of School of Electrical and Information Engineering Professor Joe Dong, and Professor Nicole Gurran from the Faculty of Architecture, Design and Planning.
HKU President and Vice-Chancellor Professor Peter Mathieson represented the University in signing the agreement with University of Sydney Vice-Chancellor and Principal Dr Michael Spence.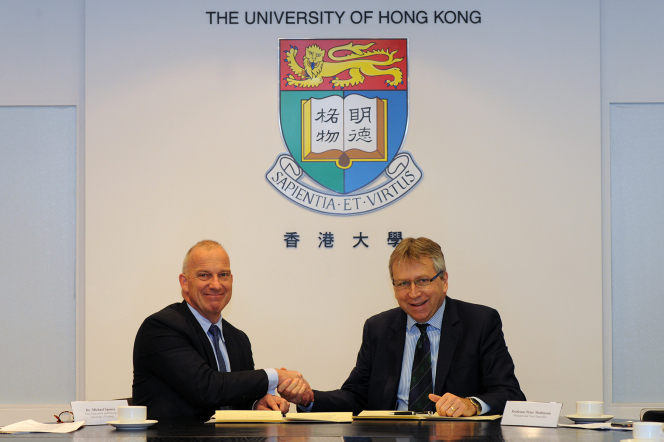 "Strategic partnership is an effective means to position top world universities within the global knowledge node to deliver greater societal impact and to secure greater visibility and recognition," said HKU Vice President and Pro-Vice Chancellor (Global) Professor W. John Kao.
"This new partnership demonstrates the University of Sydney's dedication to creating alliances with global partners that align with our strategic objectives and have complementary research strengths. We are excited by this opportunity to forge new pathways for academic collaboration, mobility and innovation in Hong Kong," said Professor Belov.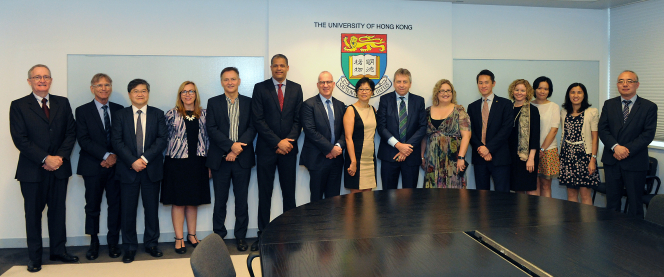 Professor Belov added, "In Hong Kong, we have found a partner that share our ambition to be one of the best universities in the world, and to advance human knowledge for the benefit of society.
The partnership agreement follows many years of active academic collaboration and student exchange between HKU and the University of Sydney. The institutions have published more than 350 joint research papers since 2011, with key areas of collaboration including electrical engineering, pharmacy and urban planning.
Highlighting the strategic importance of the partnership for HKU, President Professor Peter Mathieson said: "A key component of our vision of being 'Asia's Global University' and achieving our strategic aims of Internationalisation, Innovation and Interdisciplinarity, all converging on Impact, is to build meaningful relationships with the world's top universities. The University of Sydney has already demonstrated its commitment to Hong Kong and we have many pre-existing links. Vice-Chancellor Spence and I share the vision of much wider collaboration between our universities, and this new agreement is the result. We will aim for complementary activities in teaching and learning and in research which will build on the existing strengths of the two universities and make us stronger together."
Welcoming the partnership, University of Sydney Vice-Chancellor and Principal Dr Michael Spence said: "The University of Sydney has a long history of collaborative engagement with Hong Kong University, which has provided many of our academics and students with engaging and meaningful experiences over the years. This new partnership demonstrates how much we highly value this relationship, and how much we look forward to strengthening it to achieve even greater mutual benefit."
Capitalising on this solid foundation, the institutions today also launched a joint Global Strategic Partnership Fund to support emerging areas of collaboration. This Fund will support multilateral and cross-institutional partnerships, greater opportunities for academic and student mobility, joint conferences, joint teaching in multiple disciplines, workshops and academic visits, and will establish stronger ties with the public and the private sectors in both nations.
The new agreement also paves the way for co-led projects that address global issues identified by the United Nations Sustainable Development Goals, including urbanisation, healthy ageing, biomedical engineering, translational medicine, food and water safety, and transcultural studies. The agreement provides opportunities in expanding undergraduate and postgraduate student learning programmes and exchange as well as enhancing campus diversity and integration. Stronger ties will also be established with the public and the private sectors to obtain new resources and opportunities to enhance the overall academic enterprise.
Ms Janaline Oh, the Acting Consul-General of Australian Consulate-General of Hong Kong, who attended the ceremony, points out the deep cultural connection between Hong Kong and Australia. In Hong Kong, there currently resides more than 100,000 Australian nationals with the largest Australian professional communities in engineering and accountant living outside Australia. Together with the strong academic ties between the two universities, the time is ripe to maximize these attributes to bring real benefits to the local and international communities.
Media enquiries:
The University of Hong Kong: Rhea Leung, +852 2857 8555 / +852 9022 7446, rhea.leung@hku.hk:
University of Sydney: Jennifer Peterson-Ward, +61 434 561 056, Jennifer.peterson-ward@sydney.edu.au