Back
HKU Department of Japanese Studies Holds Joint Programme with the University of Tokyo
12 Aug 2016
The University of Hong Kong's Department of Japanese Studies is holding its joint programme with the University of Tokyo for the third time, after successful collaborations in 2013 and 2014. The theme for this year's course, which runs from August 1 to August 13, 2016, is Japanese food production, distribution and consumption in Hong Kong. 15 University of Tokyo and 12 University of Hong Kong students are participating in this experiential learning programme which includes talks by business leaders and field trips to stores and commercial operations.
This year's highlights include talks by the Consul General of Japan in Hong Kong, Ambassador Kuninori Matsuda, and by Honorary University Fellow and Managing Director of Hang Lung Properties, Dr Philip Chen.
Japan Airlines arranged for students to spend an afternoon at Chek Lap Kok International Airport where the carrier's senior executives introduced their cargo and passenger operations, and arranged a tour of the Hong Kong Air Cargo Terminal (HACTL), the single largest multi-level air cargo terminal in the world. Students also had the opportunity to hear from, and in some cases visit the operations of, Ajisen Ramen, citysuper, and Yakult.
Students from both the University of Tokyo and University of Hong Kong are accommodated at Shun Hing College for the duration of the programme, which also receives support from the Hong Kong Japanese Chamber of Commerce and Industry, the Japan External Trade Organization (JETRO), and the Hong Kong Trade Development Council.
The programme is coordinated by Dr Yoshiko Nakano of the Department of Japanese Studies, and Professor Shigeto Sonoda of the University of Tokyo's Institute for Advanced Studies on Asia, and is supported by the Shun Hing College Endowment Fund.
For media enquiries or individual interview requests, please contact Mr Cyrus Chan, Events Coordinator, Faculty of Arts (tel: 3917 4984 email: cyrusc@hku.hk).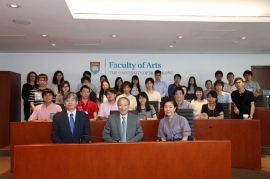 Ambassador Kuninori Matsuda (front, centre), Professor Shigeto Sonoda (front, left) and Dr Yoshiko Nakano (front, right) with students participating in the programme.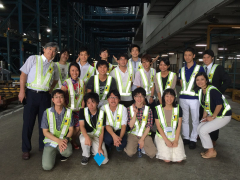 Students visit the Hong Kong Air Cargo Terminal (HACTL), the single largest multi-level air cargo terminal in the world.