Back
HKU Finds the Source of Low Back Pain through Checking Spine Images which Helps Accurate Clinical Diagnosis
14 Jun 2016
Low back pain (LBP) is a leading cause of ill-health and sick leave in the working population of Hong Kong. Many people suffering from LBP have tried many different treatments but the outcomes are unsatisfactory. The Department of Orthopaedics and Traumatology, Li Ka Shing Faculty of Medicine, The University of Hong Kong (HKU) has carried out the largest population-based study addressing spine degeneration on magnetic resonance imaging (MRI) and LBP since 2001 and found specific patterns of vertebral marrow changes, known as "Modic changes", that are highly associated with intervertebral disc degeneration. This groundbreaking study identifying the source of LBP through checking Modic changes on MRI has been published in the latest issue of Medicine (http://journals.lww.com/md-journal/Fulltext/2016/05310/Refined_Phenotyping_of_Modic_Changes__Imaging.5.aspx).
Low back pain and disability
LBP is a very common disease in Hong Kong as well as the world. A HKU study conducted in 2012 found that 7 out of 10 Hong Kong adults suffered from disc degeneration, which is one of the major causes of LBP and disability. LBP can lead to diminished quality of life, decreased productivity, loss of work and wages, and psychological distress.
MRI is a widely adopted imaging technology that has been utilised for the past three decades to assess the spine for any degenerative changes. Previous studies assessing spinal findings on MRI were very limited in scope. As a result, many treatments in the past did not suit all patients and their outcomes were less than satisfactory. This led to tremendous socioeconomic and healthcare costs. The cost of medical treatment for low back pain is as high as USD 100 billion per year.
Research method and findings
A large-scale population based study consisting of 1,142 individuals of Southern Chinese origin in Hong Kong was undertaken. All of these individuals had undergone MRI of their lumbar spine and clinical assessment. The images were assessed for a variety of spine degeneration, such as Modic changes, and mapped to different patterns and sub-types of spine changes (e.g. disc degeneration, disc herniation). These findings were then assessed to determine their role in different stages of LBP and disability.
63% of the subjects are female and the mean age of the subjects is 53 years old. Of these, 282 (24.7%) had Modic changes, with 7.1% belong to type I (indicating marrow edema in endplate disruption and vascular granulation tissue) and the other 17.6% belong to type II (indicating fatty degeneration of the vertebral marrow). Modic changes subjects were older, had more frequent disc displacements and greater degree of disc degeneration than non-Modic changes subjects. After adjusted for confining factors, Modic changes were associated with prolonged severe LBP. Type I Modic changes tended to associate with pain more strongly than type II Modic changes, while type II Modic changes were more associated with disability. The strength of associations with pain and disability increased with the extent and number of Modic changes involving in different vertebral levels.
Significance of the study
This large-scale study represents one of the first to date to extensively assess the clinical relevance of distinct Modic changes. The results showed that specific Modic changes types and patterns were associated with prolonged severe LBP and disability. These findings strengthen the clinical importance of Modic changes as key "imaging biomarkers" among LBP patients. This study raises awareness on the need to assess specific Modic changes types regarding their morphology and extent of involvement of the spine, which may contribute to the understanding of LBP development and severity. The study assists doctors in performing clinical assessment more accurately.
Dr Dino Samartzis, Assistant Professor of the Department of Orthopaedics and Traumatology, Li Ka Shing Faculty of Medicine, HKU points out that, "This study provides a new window in understanding the source of back pain and being able to 'image pain'. This does not only assist in the more refined diagnosis of patients with LBP, but can usher in the design of 'tailor-made' treatments for specific patients who have such spine findings one day. This new understanding of the spine can lead to personalised management of LBP patients, minimising the risk of unneeded or failed treatments and their astronomical cost to society. Furthermore, understanding the clinically-relevant findings on imaging will also allow us to develop more precise measures to 'prevent' the breakdown of the spine and the degenerative cascade."
Future studies will address the predictive value of Modic changes in the future development of pain and disability as well as novel therapies to help treat chronic LBP patients with specific patterns of Modic changes of the spine on imaging.
About the research team
This study was done in collaboration with The University of Oulu in Finland. The Hong Kong team is composed of the lead investigator, Dr Dino Samartzis, Assistant Professor of the Department of Orthopaedics and Traumatology, and his team, consisting of Professor Kenneth Cheung Man-chee, Jessie Ho Professor in Spine Surgery, Clinical Professor and Head of Department of Orthopaedics and Traumatology, Professor Keith Luk Dip-kei, Tam Sai-Kit Professor in Spine Surgery and Chair Professor of Orthopaedic Surgery, Department of Orthopaedics and Traumatology, and Miss Cora Bow Hing-yee, Senior Research Assistant from the Division of Spine Surgery, Department of Orthopaedics and Traumatology, Li Ka Shing Faculty of Medicine, HKU.
Please visit the website at http://www.med.hku.hk/v1/news-and-events/press-releases for press photos.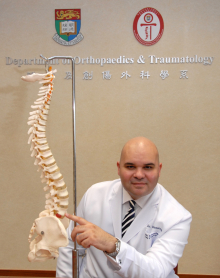 Dr Dino Samartzis, Assistant Professor of the Department of Orthopaedics and Traumatology, Li Ka Shing Faculty of Medicine, HKU points out that, "This study provides a new window in understanding the source of back pain and being able to 'image pain'. This does not only assist in the more refined diagnosis of patients with LBP, but can usher in the design of 'tailor-made' treatments for specific patients who have such spine findings one day."