Back
First community-led "Sports for ALL" sports day kicks off
Aiming for an inclusive society for children of all abilities
07 May 2016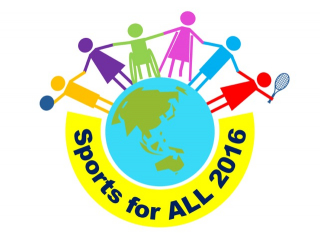 Over 150 participants and 17 schools and organisations joined the first community-led Sports for ALL sports day in Hong Kong held today (May 7) at the Kowloon Cricket Club. Children with Special Education Needs ("SEN") and their peers were invited to sports activities adapted to ensure that children of all abilities could play together.
The organising committee, comprising representatives from SNNHK (Special Needs Network Hong Kong), a community of families with children with SEN, the University of Hong Kong and the Centre for Comparative and Public Law (including a children's rights and equality expert), service providers to persons with SEN and the Kowloon Cricket Club, hopes the event will raise much-needed awareness about the importance of Sports for ALL. Physical activity is the key to good health, a human right of all persons, including the differently abled. The event aims to drive home the message that everyone can play and that we should focus on THIS ABILITY rather than DISABILITY, echoing UNICEF's campaign for differently abled persons.
Under the banner of "All Children Have the Right to Play", the aim is for this free event to become an annual affair. More than a dozen public, Direct Subsidy Scheme and private international mainstream schools, special schools and sports institutions are sending not only their students but also their Physical Education (P.E.) teachers, coaches and volunteers to run a round-robin of sporting activities which they have helped design and adapt for children of all abilities. Children were grouped into seven activities, staggered throughout the afternoon. These included cricket, football, discus throw, bean bag toss, an obstacle course, athletics, and relay, among others. Yoga, interactive African drum sessions, a running track and a bouncy castle also rounded out the activities on offer.
The significance of this event and the universal appeal of the message being advocated is highlighted not only by the fact that it is the first mass-scale collaboration of around 50 individuals and groups to organise an event of this nature, but also by the support it has received from the Hon. Mrs. Carrie Lam, Chief Secretary for the HKSAR Government, and Legislative Council Member, the Honourable Fernando Cheung, both of whom officiated the event's opening ceremony as well as the Equal Opportunities Commission, a sponsor of the event. Also present were Paralympics Table Tennis Hong Kong representative, Mr. Kevin Ko Hang Yee and Mr. Ajmal Samuel, who is a true advocate for equal opportunities for the disabled.
Chief Secretary Mrs Lam commented: "Sports nurtures courage and resilience, promotes team spirit and removes barriers. I agree that the opportunity to engage in play and sports is key to good health and should be a fundamental right for everyone, including those with special needs or disabilities. The event held today is surely in line with our policy objective of promoting an inclusive society, where all individuals can enjoy equality and respect in various aspects of life."
LegCo Member Mr Cheung added: "I have long supported the underrepresented segments of our society and believed in action at the grassroots level so it should be no surprise that I feel uplifted by the spirit of this event."
Trisha Tran, convenor of a parent advocacy group for non-Chinese speaking children with SEN and a member of the Sports for ALL Organising Committee commented: 'It was really important for me as a parent, along with my counterparts, to encourage children to play together, to enjoy sports, to help one another, and to appreciate each other's unique abilities. If we can encourage more inclusion at an early age, it will help to broaden children's acceptance of one another's differences and reduce prejudices about disabilities. With non-Chinese speaking children with SEN spread out across public and private school systems, the event aims to bring these children together for a fun sports day with their siblings and friends to promote inclusion."
Faridé Shroff, Founder of SENsational Consultancy Ltd. and member of the Sports for ALL Organizing Committee, stated that "SENsational is proud to co-sponsor this event, as it aligns with our commitment to raise awareness across the educational and corporate spectrum. Ultimately, we strive to create ability-based equal opportunities for all."
Puja Kapai, Director of the Centre for Comparative and Public Law at the University of Hong Kong and Azeem Ebrahim, Manager at the Kowloon Cricket Club, both members of the Sports for ALL Organising Committee, emphasised the significance of community-driven initiatives that are collaborative in building an inclusive Hong Kong. Kapai said: "Such a unique partnership of multiple stakeholders presented invaluable access to a range of expertise, resources, and support. This event is advocacy, education, and capacity-building for greater inclusion all rolled into one."
The Kowloon Cricket Club generously donated their sports grounds for the afternoon and sponsored various supplies. The main sponsors for the event were Mr. Rusy M. Shroff BBS, MBE and Mrs. Purviz R. Shroff who supported this cause with their belief that "to live is to give". The organising co-sponsor, SENsational Consultancy Ltd., is committed to actively raising awareness and working towards an all-inclusive society. Physiokids provided invaluable counsel on adapting activities to include children of all abilities and GigaSports donated gifts to our participating athletes.
Participating schools and sports organisations included (in alphabetical order), Asia Pacific Soccer Schools, Canadian International School, Caritas Lok Kan School, Diocesan Boys' School, Diocesan Girls' School, Discovery Bay International School, German Swiss International School, Good Hope School, Harrow International School, Jockey Club Sarah Roe School, King George V School, Kowloon Cricket Club, Kowloon Junior School, Shatin Junior School, The Harbour School, The Hong Kong Institute of Education, and West Island School, among others.
Event photos can be downloaded from this website after 5pm on May 7, Saturday:
https://www.dropbox.com/sh/nbypsxs451y6h7d/AAD2DOV0bMQvr9Kl2RM3Qajha?dl=0
For more information, please contact: Azeem Ebrahim, Manager, Kowloon Cricket Club at Sportsforall2016@gmail.com, or Katherine Khoo, Sports for ALL Organising Committee at 9457 1746.