Back
An HKU Stephen Hui Geological Museum exhibition launches on Earth Day: Snapshots of a Vanished Environment – Exceptional Fossils from the world famous Jurassic Solnhofen Limestone in Germany
21 Apr 2016
The Stephen Hui Geological Museum of the University of Hong Kong (HKU) launches a two-month exhibition on "Snapshots of a Vanished Environment - Exceptional Fossils from the world famous Jurassic Solnhofen Limestone in Germany" today on Earth Day, and will run until June 23, 2016.
The earth's fossil record is incomplete and only an estimate of around 15% of organisms that ever lived on earth are preserved as fossils. Occasionally, the fossil record presents us with surprises when very rare and specific environmental conditions allow extraordinary preservation of a high concentration and diversity of fossils in so called Fossil Lagerstaetten that represent an ancient in-situ ecological community. Such fossil sites comprise the most important portions of the fossil record for our understanding of the evolution of life and environmental changes throughout the Earth's history.
One of the world's most famous fossil Lagerstaette is the Jurassic Solnhofen Limestone in Germany which came to fame with the discovery of a number of complete Archaeopteryx fossils. This exhibition presents 11 rare and exceptionally preserved fossil animals from the 150 million-year-old Solnhofen Limestone, some up to 90 centimetres in diameter. It gives us a glimpse into the environmental challenges these organisms faced 150 million years ago.
The fossils on display in this exhibition are ancestors of today's fishes, shrimp, crabs, squid and lobster -- all organisms people can relate to as the modern forms of these prehistoric animals are today part of our daily lifestyles. A horseshoe crab with its preserved death trail is also one of the highlights in this exhibition.
The area where we find the Solnhofen Limestone today was an archipelago at the edge of the Tethys Ocean with lagoons that had limited access to the open sea. Fine grained Solnhofen limestone was deposited in the quiet and stagnant waters of a protected lagoon, cut off from the open turbulent Tethys Ocean by barrier reefs of corals and sponges. The constant evaporation under the tropical warm climate precipitated very fine limy particles from the lagoon water and concentrated the salt, producing a poisonous water layer devoid of oxygen near the bottom of the lagoon that killed anything that entered it. Any organism that fell, drifted or was washed into the lagoon either from the ocean or from the land died and sank to the anoxic bottom water where the usual scavengers and microbial decay were absent. In this environment a diverse fossil assemblage became buried and preserved in soft and fine carbonate mud. Today these fossils give us an unprecedented view of a complete Jurassic ecosystem, including both marine and terrestrial animals and plants.
The exhibition reminds us about the new environmental challenges the modern descendants of these ancient ancestors face in today's world where their survival is now threatened by human activities after millions of years of successful adaptation to natural environmental changes.
The Stephen Hui Geological Museum acknowledges Dr. Martin Goerlich who kindly provided the fossils for this special exhibition.
Visitors may also visit parts of the museum's permanent Earth Evolution gallery where fossils from three Fossil Lagerstaettens in China are on display: the Cambrian Chengjiang Biota, the Cretaceous Jehol Biota and the Tertiary Shanwang Biota.
Details of the exhibition:
Venue: The Stephen Hui Geological Museum, Main Campus, HKU, Pokfulam, Hong Kong (Map)
Date: April 22, 2016 (Friday) to June 23, 2016 (Tuesday)
Regular Opening Hours: Monday to Friday from 1pm to 6pm

Special Weekend Openings:
April 23, 30, May 7 (Saturdays), from 11a.m. to 6p.m.
May 14 (Saturday) and May 15 (Sunday) (the weekend before the International Museum Day on May 18), from 11a.m. to 6p.m.
Guided Tours:
Venue: The Stephen Hui Geological Museum, Main Campus, HKU, Pokfulam, Hong Kong (Map)
Free guided tours will be arranged at 2p.m.during the weekends. Free of charge. No registration required.
Language: English (April 30); Speaker: Dr Petra Bach
Language: Cantonese (April 23 and May 7, 14, 15); Speaker: Dr Haz Cheung
Enquiry: Tel: +852 2241 5472

Media enquiries:
HKU Communications & Public Affairs Office Ms Rhea Leung (Tel: +852 2857 8555 / +852 9022 7446/ Email: rhea.leung@hku.hk ) or
HKU Stephen Hui Geological Museum Dr Petra Bach (Tel: +852 2241 5472/ Email: pabach@hku.hk)
Highlights on Display:
Horseshoe Crab with "Death trail" (Plate size 90X50cm)

Mesolimulus Walchi, Upper Jurassic, Eichstaett, Germany.
This is a well preserved example of the extinct Horseshoe crab that lived primarily in and around shallow ocean waters on soft sandy or muddy bottoms 150 million years ago. This particular horseshoe crab must have been washed into the hypersaline Solnhofen lagoon and after it sank to the toxic anoxic bottom waters and reaching the bottom sediments it must have lived for a short period of time before it died as the sediment not only preserved the fossil but also its "death trail", the marking points where its hind legs pushed into the sediment before its death.
Squid Plesioteuthis Prisca, Upper Jurassic, Eichstaett, Germany (Plate size 40x41 cm)
This extinct Plesioteuthis fossil shows soft body preservation as impressions with rarely preserved arms, ink sac and pen. It is the most common squid in the Solnhofen Limestone. Its stream-lined body suggests that it was a fast swimmer.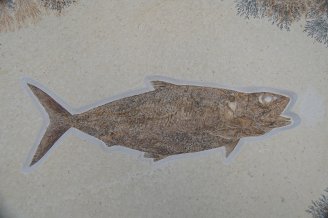 Teleost Fish Pholidophorus microcephalus, Upper Jurassic, Eichstaett, Germany. A well preserved Jurassic Bony Fish from the Solnhofen Limestone (Plate size: 80x60 cm)