Back
'Bringing Emergency Medicine to Community':
HKU Medical Students Teaching Domestic Workers Basic Life Support Skills for the Elderly
23 Aug 2015
Sudden cardiac arrest is one of the leading causes of death worldwide. According to a local study, the mean age of out-of-hospital cardiac arrest (OHCA) patients in Hong Kong was 71.5 years and 66% of cases happened at home. The latest evidence has identified early bystander CPR as an independent predictor of survival. However, the bystander CPR rate locally is low at around 15% and the survival rate of OHCA is around 1.5%. Both are inferior to other developed countries. There is therefore an urgent need to improve community awareness and enhance capacity on performing bystander CPR.

The Emergency Medicine Unit (EMU) of Li Ka Shing Faculty of Medicine, HKU with a group of Year 4 Medical students organised an event with hands-on session today (Aug 23, 2015) in Centennial Campus, HKU. The purpose is to empower the local domestic workers with basic life support skills, namely bystander CPR and choking management. There were two talks about the latest guideline on bystander CPR and choking management respectively. It has attracted over 300 participants to join the talks and workshops.

Dr Fan Kit-ling, Clinical Assistant Professor of Emergency Medicine Unit of Li Ka Shing Faculty of Medicine, The University of Hong Kong (HKU) said, "bystander CPR is critical to save life in OHCA. The victim's chances of survival falls 7-10% every minute without bystander CPR until defibrillation. Effective bystander CPR provided immediately after sudden cardiac arrest can double or triple a victim's chance of survival, but only around 15 percent of cardiac arrest victims get CPR from a bystander. We advocate and teach bystander hands-only CPR which is more easy to learn ,remember and do ,hoping that more people can perform CPR when witnessing OHCA and hence many lives could be saved."

Ms Bernardita Leonido Catalla, Philippine Conusulate General HKSAR said, "we, in the Consulate, support initiatives that enhance the knowledge and upgrade the skills of Overseas Filipino Workers (OFWs) in Hong Kong. We encourage our OFWs to actively participate and avail themselves of programs and projects that equip them with new skills to become better workers and productive members of their respective communities, whether in Hong Kong or back in the Philippines. Again, we express our gratefulness to HKU for this very worthwhile endeavor."

During the talks, medical students taught the local domestic helpers a simplified but proven to be effective version of bystander CPR, called Hands-Only CPR. In addition, as the elderly population is prone to choking by foreign body because of various reasons related to aging. The domestic helpers are taught how to use prompt and effective maneuver to relieve the obstruction of the airway to save the life of the elderly. It is in fact an essential skill in the basic life support skill set.

This talk with hands-on session for domestic workers on basic life support is organised by HKU medical students Emergency Medicine Interest Group (EMIG), and is advised by Emergency Medicine Unit (EMU) of Li Ka Shing Faculty of Medicine. The function is supported by the 'We Are With You' (WAY) Fund of HKU.
About out-of-hospital sudden cardiac arrest

Out-of-hospital sudden cardiac arrest rate is high at home for the elderly while the odds of survival drop significantly after four to six minutes without CPR in witnessed arrests. According to the National Heart Rhythm Charity, Arrhythmia Alliance, the life-saving potential of prompt bystander assistance can increase chance of sudden cardiac arrest survival from 5% to 50%. Research studies have also showed that high quality bystander hands-only (or compression only) CPR is at least as efficacious as conventional CPR (chest compression plus rescue breath) in adults with witnessed OHCA. Meanwhile, the American Heart Association has pointed out that Hands-Only CPR has been proven to be as effective as CPR with breaths in treating adult cardiac arrest victims since 2010. Bystander hands-only CPR is recommended for those who are reluctant to, untrained in or not confident of performing rescue breath.
About Emergency Medicine Unit and Emergency Medicine Interest Group

The Emergency Medicine Unit (EMU) of the Li Ka Shing Faculty of Medicine, HKU was established in May this year, the Unit has been active in engaging medical students through a series of projects in bringing Emergency Medicine to the community. It is hoped that not only can the expertise of Emergency Medicine practitioners serve patients in hospitals but also the general public in the community. In response to the need for empowering the domestic workers with the skills and knowledge of BLS, a group of fourth-year medical students from the Emergency Medicine Interest Group (EMIG) of EMU have been working actively on various activities to meet this need.
About the WAY Project

In 2012, the Chow Tai Fook Charity Foundation donated $10M to the University of Hong Kong to implement the WAY Project, which was launched in the academic year of 2013-14. The WAY Project is a four-year community-based social capital development project in the Southern District. Its objective is to build a district-based community network to empower the community to accumulate social capital and improve social mobility. The project emphasises on the mobilization and exchange of resources among different social groups in the Southern District to achieve mutual benefit. HKU students and staff will contribute to improve the condition of the less privileged and empower them to improve their own conditions in the long run. The ultimate goal is to develop a replicable model for social capital development, particularly with the involvement of staff and students of tertiary institutions. (Website: http://wp.cedars.hku.hk/web/way/zh/2013/10/07/the-way-project/?lang=en)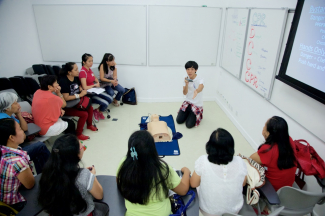 The local domestic helpers were taught CPR and had a chance to have a hands-on session in a small group.
Organising committee members of the Emergency Medicine Interest Group (EMIG), student helpers and their supervising doctors, Dr Leung Ling-pong (Front row, right 6), Clinical Associate Professor of EMU and Dr Fan Kit-ling (Front Row, right 7), Clinical Assistant Professor of EMU, Li Ka Shing Faculty of Medicine, HKU took a group photo together after the event.