Back
Two exhibitions held at HKU UMAG: "Vernacular: Liu Qinghe in Hong Kong" & "Being-there: Works by Chen Shuxia"
16 Apr 2015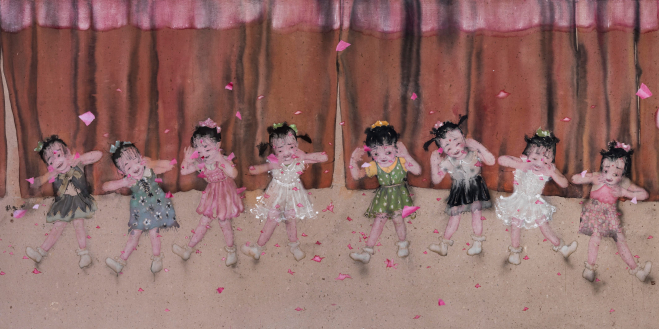 Liu Qing-he's Wahaha, Ink and wash on paper 280 x 500 cm 2013
The University Museum and Art Gallery (UMAG) collaborates with the Central Academy of Fine Arts (CAFA) to present two
exhibitions by renowned Chinese artists Liu Qing-he and Chen Shu-xia: "Vernacular: Liu Qinghe in Hong Kong" and "Being-there: Works by Chen Shuxia", from April 17 (tomorrow) to May 24, 2015.

An opening ceremony of the exhibitions was held at UMAG today (April 16). Officiating guests include CAFA professor and co-curator of the exhibition Zhao Li; artists Mr Liu Qing-he and Ms Chen Shu-xia, as well as UMAG Director Dr. Florian Knothe. To tie in with the exhibitions, art forums on both exhibitions were held before the opening ceremony.

"Vernacular—Liu Qinghe in Hong Kong" is an exhibition that features more than sixty contemporary ink works by Liu Qing-he (b.1961), an artist and professor at the academy who is best known for his unique style of contemporary ink paintings. His works often portray social realities and their impact on Chinese families, individuals and the artist himself.
This biographical exhibition depicts Liu's story from boyhood to the present. These selected works embody a multitude of trajectories from across mainland China's past half century, and document the artist's continuous engagement with his family, society and community.

"Being-there: Works by Chen Shuxia" displays a selection of paintings by Chen Shu-xia. An exhibiting artist for the past 30years. Chen's artwork builds on the traditional genre of oil painting and its long-practised and western-influenced techniques through the presentation of portraits and still-lifes, subjects and styles informed by her daily observations.

'Being-there' describes a state of "having arrived", as well as of a momentary circumstance; like a still-life that "is there", while the fresh fruit depicted in the painting has long since expired. Grouped under this multifaceted title, the artworks and accompanying publication gain documentary value as they describe a precise moment — the current properties and conditions of Chen's sitters while they "are or were there". The same emotion is then embraced by the artist herself and, in true self-reflexive form, becomes an example of her own place and the assurance of feeling more real in her created space.
This abstract truth is coupled with a poetic tranquility that transforms the artist's paintings into something humanistic,
warm and undeniably personal. Chen's interest in folk art and solid painterly techniques allows her to create a visually intimate relationship with her subjects, and brings — both humans and objects — closer to her viewers.

Details of the Exhibitions

Period: April 17, 2015 (Friday) to May 24, 2015 (Sunday)
Opening Hours:
09:30 – 18:00 (Mon to Sat)
13:00 – 18:00 (Sun)
Closed on University and Public Holidays

Venue:
Vernacular: Liu Qing-he in Hong Kong - 1/F T.T. Tsui Building, UMAG, the University of Hong Kong, 90 Bonham Road, Pokfulam
Being There: Works by Chen Shu-xia - 1/F Fung Ping Shan Building, UMAG, the University of Hong Kong, 90 Bonham Road, Pokfulam

General Enquiry: Tel: (852) 2241 5500 / Email: museum@hku.hk
Fees: Free Admission
Website: www.umag.hku.hk/en/

Media enquiries:
UMAG Communication Officer Miss Elena Cheung, Tel: (852) 2241 5512, Email: elenac@hku.hk
About University Museum and Art Gallery of the University of Hong Kong (UMAG)
UMAG was founded in 1953 as the Fung Ping Shan Museum. It was originally established as the Fung Ping Shan Library in 1932 in honour of its benefactor. For more information on UMAG, please refer to the UMAG document.