Back
First mental health web radio in Hong Kong raises the community's awareness on mental illness and mental health
15 Nov 2013
According to the Hospital Authority Mental Health Service Plan for Adults 2010-2015, it is estimated that the number of people with any form / level of mental disorder in Hong Kong ranges between 1 million and 1.8 million. However, "mental illness" remains a taboo in our society. Those affected by mental health problems are reluctant to seek help; the number of people attending outpatient psychiatric services run by the Hospital Authority was only about 190,000. There is a pressing need to increase the public's mental health awareness.

In 2010, Tung Wah Group of Hospitals (TWGHs) established the first internet-based radio website "Radio I Care" to target at people who are concerned about stigma of mental illness and to provide the general public with tailor-made and comprehensive information. Through the internet and multi-media platform, "Radio I Care" delivers a diverse range of mental health information in a non-traditional fashion.
Study Results

The University of Hong Kong (HKU) conducted an 18-month study to review the experience of launching "Radio I Care" and evaluate the impacts of the "Radio I Care" on audiences or individuals concerned. Approximately 1,300 participants have been involved in surveys, in-depth interviews and focus groups at various stages of the study.

In the pre-implementation survey involving 492 respondents, the internet was ranked as the most popular way to obtain mental health information (60.0%), followed by newspaper / magazine (55.1%) and television (32.3%). The reasons for seeking mental health information were to: improve knowledge about mental health, support family members or friends, and detect warning signs of mental health problems and seek early treatment (Table 1).
Table 1
Reasons for seeking mental health information

Percentage

Improving knowledge about mental health
(e.g. types of mental illness, prevention of onset of mental health problems)

60.0%

Supporting family members or friends

45.1%

Detecting warning signs of mental health problems and seeking early treatment

43.7%
In another investigation within the present study, we surveyed 287 people and found that 65% were interested in learning more about depression, followed by schizophrenia and anxiety disorder at about 50% respectively. It is apparent that depressive illness is the most concerning mental health issue in Hong Kong (Table 2); the respondents were interested in listening to or watching about ways of managing stress and a variety of treatment methods (Table 3).

Table 2
| | |
| --- | --- |
| Types of mental disorder the respondents were interested in | Percentage |
| Depression | 65.1% |
| Schizophrenia | 50.9% |
| Anxiety | 49.1% |
Table 3
Types of program the respondents were interested in

Percentage

Stress reduction/ relaxation exercises

69.3%

Treatment methods

65.2%

Case sharing
(e.g. personal account of recovering from serious mental illness)

58.2%
Furthermore the focus groups (involving 42 interviewees) conducted in middle phase of the study revealed that 90% strongly agreed or agreed that the information disseminated by "Radio I Care" was credible. Generally speaking, the interviewees agreed the design of the website and the messages delivered were of professional standard.

In the final phase of the study, among the 104 respondents who had visited "Radio I Care" at least once a month and listened to or watch at least two programmes in the past four weeks, 80% indicated through the programmes, they increased their awareness about mental illness and mental health, about half of the sample improved their knowledge about resources available in community, reduced stigma against people affected by mental illness and motivated them to seek professional help (Table 4).

Table 4
| | |
| --- | --- |
| Perceived impacts of Radio I Care on respondents | Percentage |
| Increasing awareness about mental illness and mental health | 85% |
| Improving their knowledge about resources available in community | 61% |
| Reducing stigma against people affected by mental illness | 48% |
| Motivated individuals to seek professional help | 49% |
Conclusion

The major finding of this study is that mental health promotion through internet platform is an innovative method and matches the general public's style of acquiring knowledge related to mental health or mental illness. "Radio I Care" can raise the awareness of mental illness and relevant community resources, in turn support individuals to seek help.

Mental health problem not only affects individuals but also impacts on the entire family. Family members are often the individuals who support their loved one to seek help and recover from problems related to emotional or cognitive difficulties. In terms of direction for future development, "Radio I Care" can consider focusing on care-givers for example, programmes to explain how early intervention can be organised. Furthermore youths can be another target population. Finally "Radio I Care" should continue to improve the website design and functionalities, to create a friendly navigation environment.

"Early detection, prompt help-seeking behaviors" is a crucial strategy to tackle mental health problems. "Radio I Care" should seek additional resources to better support the community in particular family members with loved one affected by mental illness, to reduce the stigma against people with mental illness. The government should also support such a meaningful and cost-effective mental health education initiative to benefit more people in our community.
For media enquiries, please contact:

Corporate Communications Branch, Tung Wah Group of Hospitals:
Ms Bernice Wong (Tel: 2859 7482 / Email: bernice.wong@tungwah.org.hk)

Faculty of Social Sciences, The University of Hong Kong (HKU):
Miss Vanessa Sit (Tel: 3917 1203 / 9267 8877 / Email: vansit@hku.hk)
About TWGHs (www.tungwah.org.hk/)
Since its establishment in 1870, Tung Wah has been all along upholding its mission "To heal the sick and to relieve the distressed; to care for the elderly and to rehabilitate the disabled; to promote education and to nurture youngsters; and to raise the infants and to guide the children." Nowadays, Tung Wah has become the largest charitable organization in Hong Kong. For over a hundred years, Tung Wah's medical and health, education and community services have developed rapidly to fulfill the needs of the society and to provide high quality services at low rates. Today, Tung Wah operates over 264 services centres, including hospitals and health services and Chinese medicine services centres, education services centres, community services centres that cover elderly, youth and family, rehabilitation and traditional services, whilst the Tung Wah Museum strives to promote, restore and preserve the heritage and relics of Tung Wah.
About Faculty of Social Sciences, HKU (www.socsc.hku.hk)
The Faculty of Social Sciences was established in 1967 and has undergone rapid expansion and significant transformation since then. Through 45 years of development, the Faculty has become one of the leading schools in social sciences education and research globally. In 2012/13, we are ranked first in Asia and 30th in the world according to the Times Higher Education World University Rankings.
The Faculty comprises five departments and seven multidisciplinary research centres that provide a platform for interdisciplinary research and collaboration. Through our focus on social innovation and global citizenship we also seek to contribute to the advancement of society and the development of leaders locally, regionally, and globally. The Faculty is committed to building a strong research culture and has achieved recognition in three strategic research areas that seek to grow: the study of NGOs and Civil Society; China Studies; and Social and Cognitive Neuroscience. Faculty members publish in high impact academic journals and undertake a wide range of contract research focusing on public policy.
The Faculty has been a leader in knowledge exchange for the local and regional communities through activities such as public lecture series, academic seminars, professional workshops, media presentations, student internship programmes, consultancy services and taught postgraduate programmes. Many colleagues participate in policy making bodies and provide advice to government bodies and other public organisations.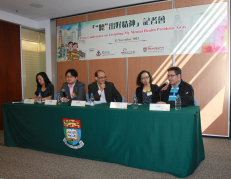 HKU Faculty of Social Sciences releases the review of the first mental health web radio in Hong Kong "Radio I Care".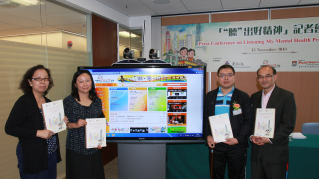 (From right) Department of Social Work and Social Administration Associate Professor Dr Samson Tse who conducted the research, recovered patient Mr. Wilson C. L. Wong, TWGHs Wong Chuk Hang Complex Senior Supervisor Ms Eppie Wan and carer Mrs Yuen share their views on the effectiveness of "Radio I Care".