Media
Back
Emerson String Quartet at HKU

17 Jun 2013
Presented by Cultural Management Team, HKU

30 June 2013, 3pm
Grand Hall, Lee Shau Kee Lecture Centre, Centennial Campus, HKU

Hear the legendary Emerson String Quartet in the dazzling acoustics of HKU's new venue –The Grand Hall

"… with musicians like this there must be some hope for humanity. " – The Times

"The performances were everything we have come to expect from this superb ensemble: technically resourceful, musically insightful, cohesive, full of character and always interesting." – The New York Times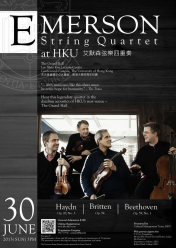 The world-renowned Emerson String Quartet will perform at HKU's brand new Grand Hall of the Lee Shau Kee Lecture Centre on 30 June 2013. The chemistry between the Hall's acoustics and the Quartet's artistry will work magic, and will provide an exhilarating experience to all music lovers!

Formed in 1976, the Emerson String Quartet stands apart in the history of string quartets with an unparalleled list of achievements over three decades: nine Grammy®, three Gramophone Awards, the coveted Avery Fisher Prize and an international reputation for groundbreaking chamber music projects and correlated recordings.
The Emerson String Quartet is an active player in the international music scene. In 2013 they have more than 60 engagements worldwide, and have graced the Southbank Centre in London, the Royal Library in Copenhagen, the Wiener Konzerthaus in Vienna, Carnegie Hall in New York with soprano Renée Fleming and the Philharmonie in Berlin, among others.
Furthermore, in its first member change since 1979, the Quartet welcomed Paul Watkins as its cellist in May 2013. Mr. Watkins, a distinguished soloist, award-winning conductor, and dedicated chamber musician, joins the ensemble for their 37th season, performing with his new colleagues extensively throughout North America, Europe and Asia.
Come and hear how marvelous this legendary quartet will sound in its new incarnation at HKU's state-of-the-art venue.

PROGRAMME:
Haydn Op. 20, No. 3 | Britten Op. 94 | Beethoven Op. 59, No. 1

TICKETS:
General Admission $100
Please register at http://hkuems1.hku.hk/hkuems/ec_hdetail.aspx?UEID=23774&guest=Y
Tickets are limited and available on a first-come, first-served basis.
For programme and ticketing enquiries, please call 3917 7754
Download press photo here:
https://www.dropbox.com/sh/tkomea41swdlqkv/tlk4XDNox2
Media Enquiries
For more information and interview arrangements, please contact:
Ms June Lui
Manager, Cultural Management Team, HKU
Telephone: 3917 7753
Email: junelch@hku.hk
**********************************
The Grand Hall, Lee Shau Kee Lecture Centre at HKU
The new Grand Hall at HKU is built on the site of an underground reservoir that served various areas of the Hong Kong Island. Now, with its remarkable architectural design and dazzling acoustics, the Hall aspires to be a vital "reservoir of knowledge" for academic and cultural activities, serving the region and beyond. The Grand Hall was inaugurated in January 2013 and this concert will be the first presentation by the University's Cultural Management Team.

Cultural Management Team, HKU
The Cultural Management Team was established in December 2012. The mission of the Team is to inspire a life-long passion for the arts through innovative programmes that will enrich the imaginative atmosphere on campus and establish HKU as a leading centre of cultural activity.

Emerson String Quartet
The Emerson String Quartet stands alone in the history of string quartets with an unparalleled list of achievements over three decades: more than thirty acclaimed recordings since 1987, nine Grammy® Awards (including two for Best Classical Album, an unprecedented honor for a chamber music group), three Gramophone Awards, the coveted Avery Fisher Prize and cycles of the complete Beethoven, Bartók, Mendelssohn and Shostakovich string quartets in the world's musical capitals. The Quartet has collaborated in concerts and on recordings with some of the greatest artists of our time. In 2000, the Emerson was named "Ensemble of the Year" by Musical America, and, in March 2004, became the 18th recipient of the Avery Fisher Prize.
In March 2011, Sony Classical announced an exclusive agreement with the Emerson String Quartet. The Quartet's debut album for the label was released in October 2011 to coincide with a series of concerts at Wigmore Hall in London and Alice Tully Hall in New York City. In June 2012, the Emerson embarked on its first tour of China which included sold-out performances in Shenzhen, Tianjin and Beijing. In 2012-2013, its 36th season, the Emerson performs extensively throughout North America, highlighted by a concert in Carnegie Hall's Isaac Stern Auditorium with pianist Yefim Bronfman, cellist Colin Carr and violist Paul Neubauer. European engagements take the Quartet to the Canary Islands as well as to Paris, Moscow, Salzburg, Vienna, Copenhagen, Munich, Perugia and London. The Emerson continues its series at the Smithsonian Institution in Washington, DC, for its 33rd season. An album of Tchaikovsky's Souvenir de Florence and Schoenberg's Verklaerte Nacht, has been released by Sony in March 2013.

Formed in 1976 and based in New York City, the Quartet took its name from the American poet and philosopher Ralph Waldo Emerson. The Emerson is Quartet-in-Residence at Stony Brook University.