Back
A Night at the Museum of Art with Andy Warhol
A unique experience of an overnight event for secondary students
08 Mar 2013
The Hong Kong Museum of Art opened up its doors for the first time at night on February 22 and March 8 for "A Night at the Museum of Art with Andy Warhol", an innovative programme co-organised by The University of Hong Kong (HKU) and the Hong Kong Museum of Art (HKMA). The event was part of the celebration of HKU's Centenary and the HKMA's 50th Anniversary.

"A Night at the Museum of Art with Andy Warhol", a sequel to "A Night at the Science Museum" which debuted in November 2011, not only opened up the "Andy Warhol: 15 Minutes Eternal" exhibition for the secondary school students, but also provided them with a unique learning experience on art, pop culture and creativity through various Andy Warhol themed lectures, movies, music performances and workshops. The event drew some 600 secondary school students from 56 local schools to the Art Museum.

Student split into groups for guided tours of the exhibition, which was followed by workshops facilitated by renowned professionals in the relevant fields. On February 22, a talk entitled "Innovation & Creativity – Where Arts and Science Meet" was delivered by Professor Paul Cheung, HKU's Associate Vice-President and Professor in Electrical & Electronic Engineering. It illustrated to the students the importance of integrating arts and science so as to enrich our culture, economy and humanity in general through various examples of people, companies, and technologies.

On March 8, professors from HKU's Department of Computer Science delivered a talk featuring computer graphics. Students had a chance to learn more about the artistic applications of computer graphics in modeling, animation, rendering, and imaging.

A further talk on "15 Minutes on Warhol's Lifetime (1950-1980)" was delivered by Dr Florian Knothe, HKU's Director of University Museum and Art Gallery on March 8. This session aimed to introduce students to the cultural, social and economic conditions and developments in the US from the 1950s through to the 1980s, in order to better understand the context for Andy Warhol's art and his motivation to provoke the environment in which he lived.

Students also enjoyed the parallel workshops that started at midnight. At the silkscreen workshop, students learnt how Andy Warhol-styled prints are made and had hands-on experience in producing silkscreen prints of popular icons. A workshop on window displays was inspired by Andy Warhol's window display for Bonwit Teller Department Store. Facilitators from the retail business and architecture fields showed students how to create traffic-stopping window displays. Other workshops included dance, media, album cover design, instant photography, science, cinematography and photography.

The event was reported live by students from the Journalism and Media Studies Centre of HKU (JMSC) through out the night. With the support of the Centre, the JMSC students built communication platform among all the participants on Facebook, Twitter and Instagram, produced video clips, photos, articles instantly and broadcasted multi-media reports while the event was unfolding.
For media enquiries, please contact HKU Communications and Public Affairs Office, Knowledge Exchange Officer Ms Julie Chu tel: 2859 2437 email: juliechu@hku.hk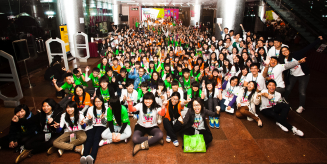 "A Night at the Museum of Art with Andy Warhol" drew some 600 secondary school students from 56 local schools to the Art Museum.