Back
HKU and Jockey Club launch leadership programme to empower the Third Sector
07 May 2012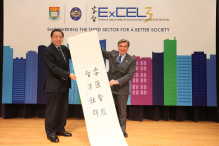 HKU Vice-Chancellor Professor Lap-Chee Tsui and Chairman of The Hong Kong Jockey Club Mr T Brian Stevenson
HKU and Jockey Club are jointly presenting a 32 million-project ExCEL3 -- "Excellence and Capacity building for Entrepreneurship and Leadership for the Third Sector". The Project seeks to empower the third sector for a better society. So far over 1,000 representatives from the Third Sector have participated.
The Launch Ceremony was officiated by HKU Council Chairman Dr Leong Che-hung, Vice-Chancellor Professor Lap-Chee Tsui, and Mr T Brian Stevenson, SBS, JP, Chairman of The Hong Kong Jockey Club (HKJC).
The Third Sector is crucial to social progress. Recently they have been faced with challenges due to the increasing complexity of the socio-economic and political environment, rising public expectations in governance and accountability, and the need for resource development and sustainability. Dr Leong Che-hung explained that ExCEL3, initially planned as a 5-year scheme, would draw from international expertise to develop various training programmes, public lectures and workshops to enhance the third sector's capacity in tackling the challenges. The support for EXCEL3 is part of Jockey Club's donation for HKU's Centennial Campus project, details of which will be announced later.
Dean of Social Sciences Professor John Burns further explained that the Project sought to nurture innovation and entrepreneurship, strengthen leadership, governance, management and organisational effectiveness of non-profit and civic organisations.
Jockey Club Chairman Mr Stevenson commended HKU for its tremendous efforts in developing the project content and offering training programmes for NGOs, many of whom are the Club's partners as a force for good. "ExCEL3 Project seeks to help the leaders and social workers of NGOs face the challenges from the community's rising expectations of their functions and governance, as well as to help them ensure their sustainability."
Vice-Chancellor Professor Lap-Chee Tsui thanked the HKJC for their generous support and hoped that the ExCEL3 project can continue to break new grounds. HKJC has had a long history of partnership with HKU on community-based projects, including:
- Project ENABLE (Empowerment Network for Adjustment to Bereavement and Loss in End‐of‐Life), with the Centre on Behavioural Health
- The FAMILY Project ("FAMILY: A Jockey Club Initiative for a Harmonious Society), with the School of Public Health
- "Read & Write: A Jockey Club Learning Support Network", with Department of Psychology, to help students with specific learning difficulties to develop their full potential.
- CADENZA, a five-year Jockey Club initiative with the Faculty of Social Sciences, in light of the rapidly ageing population in Hong Kong.
For media enquiries, please contact Ms Trinni Choy, Assistant Director (Media) on 2859 2606, email; pychoy@hku.hk or Ms Polo Leung, Assistant Director (Development) on 2241 5677 or pololeung@khu.hk .