Back
HKU Research to Explore Safety Initiative Effectiveness in Hong Kong
14 Jun 2010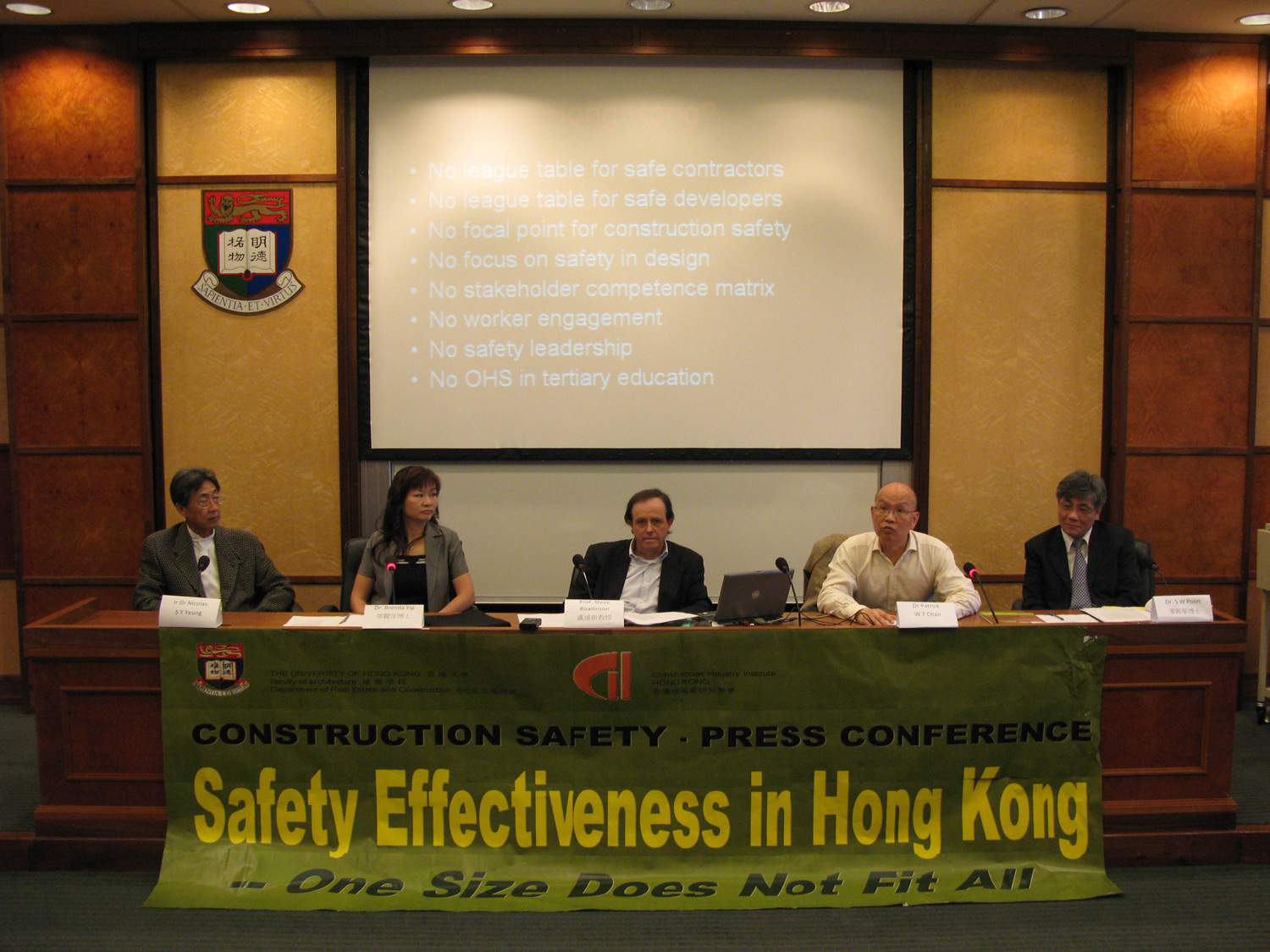 HKU releases report on effectiveness of industrial safety initiatives
The construction industry is well known to be the most dangerous of all industries in Hong Kong. Government, Housing Authority, MTRC and others have introduced a range of measures in recent years to improve safety performance. Unfortunately, the steady decline in accident rates has flattened out in the past three years. The expected increase in construction output within the next five years, with the onset of the many rail and bridge projects planned in Hong Kong, presents a serious dilemma. Accident rates reflect output in the construction industry and we should anticipate a significant increase in the accident rate with this increase in output. The cost of work-related accidents and ill-health in the construction industry accounts for as much as 8.5% of project costs when social, direct and indirect costs are included. Thus, it is necessary to plan now for the expected upturn - the situation is URGENT and immediate action is required if accidents are to be prevented and lives saved.
The Construction Industry Institute Hong Kong (CII-HK) commissioned research to investigate how we can improve continuously all aspects of safety performance and the cost effectiveness of construction safety measures. Thus it funded Professor Steve Rowlinson, Dr. SW Poon and Dr. Brenda Yip from HKU's Department of Real Estate and Construction to carry out a 12-month research project entitled "Safety Initiative Effectiveness in Hong Kong - One Size Does Not Fit All" within the industry, with a view to exploring the current situation in the Hong Kong construction industry and identifying several areas where new initiatives need to be developed.
The research suggested an industry-wide improvement agenda for a safer and healthier construction industry as follows:
1. Promote a Culture change throughout the real estate & construction industry whereby life is valued - no one should expect to go to work and to be injured
2. Territory-wide safety targets should be established and achieved
3. Publish performance data - safe contractors and developers should be rewarded, those performing poorly should be named
4. Developers and architects should consider the safety and health aspects of their designs in terms of safety of construction and safety in use from the drawing board before work starts on site
5. Choose competent contractors - contractors with poor safety records should not be considered for projects
6. Set a realistic and achievable time schedule for construction projects - the "can-do" attitude of fast construction can lead to accidents
7. Develop a whole life cycle safety management system - that is make sure that safe maintenance, safe construction, even safe demolition, are considered at the beginning of the project
8. Clients and contractors must commit to comprehensive safety training which is focused on identified competences of workers and managers
9. The successful Pay for Safety scheme should incorporate a bonus for excellent safety performance
10. Workers should be actively engaged in health and safety management by their employers
11. Encourage and reward responsible developers with incentives for safe construction\
12. Carefully and methodically audit and monitor site safety - the audit should be seen as a way of improving performance not as a minimum target to achieve
13. Adopt more relational and integrated contracting systems so that the safety aspects of design, construction and use can be built in to the project from day one
14. The Construction Industry Council should have the remit to take the lead in driving these initiatives.
For the full report, please visit: http://www.hku.hk/cpaoesite/press/100614report
For major suggestions in the report, please visit: http://www.hku.hk/cpaoesite/press/100614RE
For media enquires please contact Ms Trinni Choy, Assistant Director (Media) at 2859 2606 or Ms Melanie Wan, Manager (Media) at Tel: 2859 2600.