Back
HKU Knowledge Exchange e-Resource Project for New Secondary School Liberal Studies
10 Jun 2010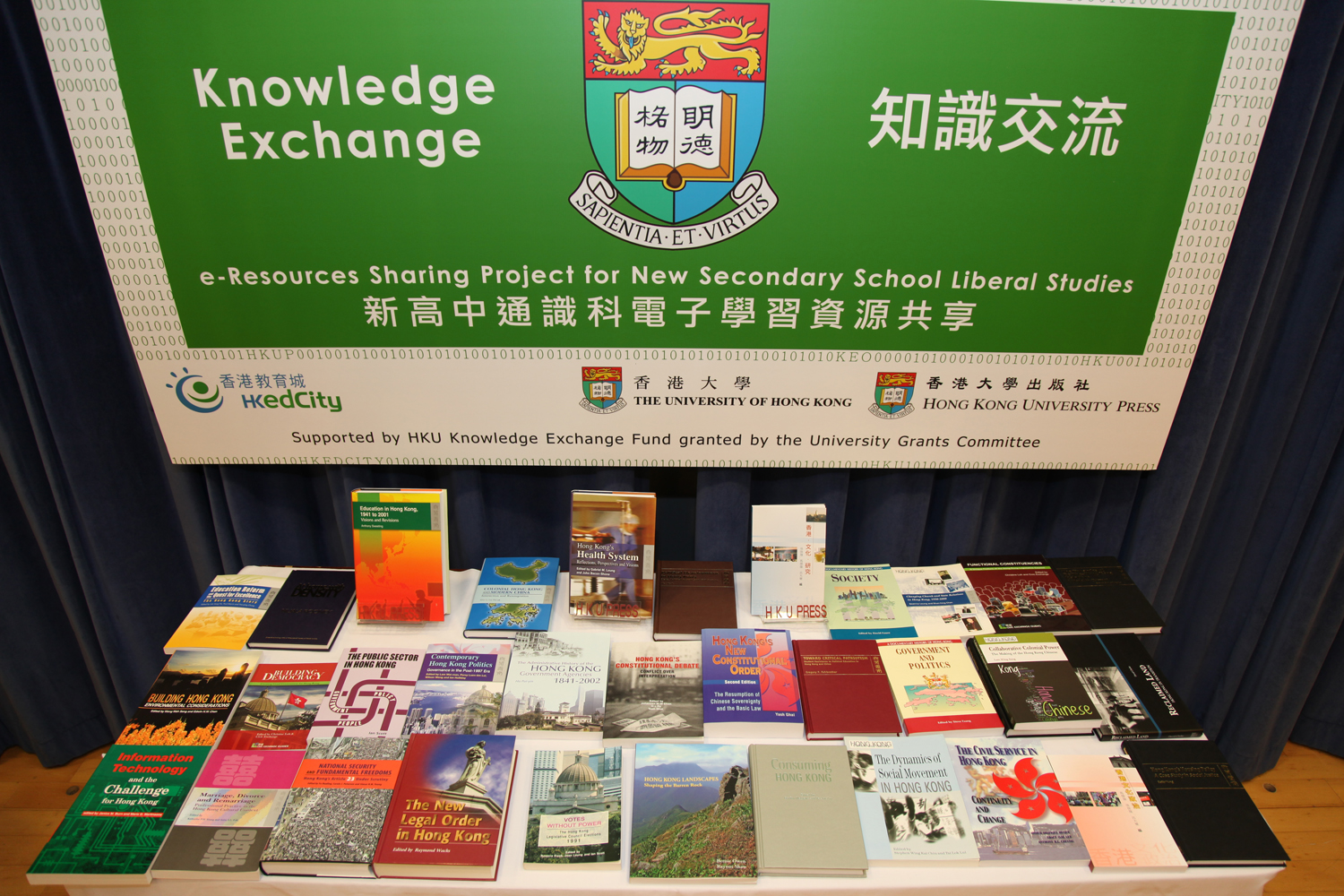 The first batch of 32 English-language books published by the Hong Kong University Press included in the e-resource project
The Hong Kong University Press has converted 32 English-language books into digital resources, on subjects ranging from politics and sociology to public health, education and social work. The digital resources are freely accessible to senior secondary school teachers and students in Hong Kong on the Hong Kong Education City website.
"Society & Culture: Life in Hong Kong under 'One Country, Two Systems'" is one of the compulsory parts of the New Senior Secondary (NSS) Liberal Studies curriculum. Students need to collect, analyse and discuss topics relating to the Basic Law, legal-political system, and socio-economic conditions in Hong Kong. The new curriculum also adopts an "issue-enquiry approach", through which students are required to develop their own views, construct personal knowledge, and become critical thinkers.
The project has been made possible with the support of the Knowledge Exchange Fund of the University Grant Committee. Although many resources are available on the internet and through other channels, authoritative, research-oriented, credited and copyright-free resources are lacking, teachers and students can now use the copyright-free content on the HKEdCity portal for their Liberal Studies projects and for general study. The Hong Kong University Press is planning to include 100 titles in the electronic database before 2011 to cover other modules in China and cultural studies under the liberal studies curriculum.
Professor John Bacon-Shone, Associate Director of the Knowledge Exchange Office of the University of Hong Kong (HKU), Mr Michael Duckworth, Publisher of Hong Kong University Press co-hosted a press conference today (June 10) at HKU to introduce the project. Ms Ng Mei Mei, Executive Director of Hong Kong Education City (HKedCity), was invited as the guest speaker
Professor John Bacon-Shone, who is also Associate Dean of HKU Faculty of Social Sciences, reiterated the importance of knowledge exchange as a mission of the University.
"In our continuous pursuit of excellence in research, HKU also strives to ensure that our innovations and the new knowledge we create can be shared with our society. Knowledge exchange is now an explicit part of the HKU Strategic Plan, alongside teaching and research."
He said the 32 titles now available in the e-resource would provide high quality information to students.
"Take a look at those titles: you don't have to be a Liberal Studies teacher or student to become interested." He added.
HKedCity Executive Director Ms Ng Mei Mei emphasized the commitment of HKedCity to creating an environment for the community to exchange best practices, share resources and learn from each other.
"And ultimately, making learning more fun, engaging, and personalized for our next generation," she added.
For the list of books, please visit http://www.cpao.hku.hk/media/100610ebooklist.doc

For further enquiries, please contact Joseph Siu of Hong Kong University Press at joesiukw@hku.hk or tel (2552 4789).