Back
HKU "First-in-the-Family" Students Share Their Learning Aspirations
20 Nov 2008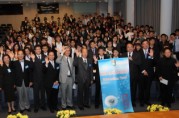 Picture 1
The University of Hong Kong held the "First-in-the-Family Education Fund" Presentation and Sharing Ceremony today. Dr Philip Wong, Chairman of the HKU Foundation, Professor Lap-Chee Tsui, Vice-Chancellor of HKU, alumni Dr Chan Kow Tak and Mr Kwan Chuk Fai attended the Ceremony and over 200 student recipients attended the Ceremony.

At the Ceremony, the first batch of "First-in-the-Family" Education Fund Recipients shared their learning aspirations and sincerely thanked all supporters of the Fund. "The First-in-the-Family Education Fund gives us the opportunities to experience cultures of different parts of the world and expand our horizons, thus enriching our university life."

Dr Chan Kow Tak and Mr Kwan Chuk Fai and Dr Philip Wong, supporters of the Fund and alumni, shared their experiences when they were students at HKU. They also reminded the students to remember to give back and contribute to the society.

At its first year, the Fund received support from The University of Hong Kong Foundation For Educational Development and Research and the society, including Philip K H Wong Foundation, Mr Yeung Kwok Keung, Chairman of Country Garden Holdings Ltd and Class of 83 alumni fundraising for the Fund while celebrating their 25 years of graduation.

"First-in-the-Family Education Fund" was established at HKU earlier this year to celebrate those who are the first in the family attending university by encouraging them to embrace the intellectual challenges of higher learning, and enable them to benefit from the learning opportunities outside the classroom beyond their families' affordability. These learning activities include field trips, study tours, internship and service learning programmes and exchange etc.

The Scheme is implemented in the current academic year. Full-degree undergraduate students, who are the first generation of university students in the family, (that is both the father and mother do not have a university education) and with a monthly household income of $12,000 or less, are eligible for the FIFE Fund upon entry to the University. Each student recipient will receive $10,000 in the entire course of study.
Another aim of the FIFE Fund is to promote the act of "paying forward" among students. Students are expected to advance Hong Kong society and provide opportunities for the generations after them.
For media enquiries, please contact Ms Polo Leung (Tel: 2241 5677 / E-mail: pololeung@hku.hk) and Ms Salina Kong of HKU Development & Alumni Affairs Office (Tel.: 2241 5175 / E-mail: salkong@hku.hk)