Back
HKU wins TechConnect Global Innovation Awards at TechConnect World Innovation Conference & Expo 2018
29 Apr 2018
The University of Hong Kong (HKU) has won two TechConnect Global Innovation Awards at the TechConnect World Innovation Conference & Expo (TCWI) 2018 to be held in the United States in May.
The two award winning innovations are "Omniphobic porous membrane and methods for preparing the same" and "Super Steel - A method for the fabrication of a super-strong and ductile multi-phase steel", both by the HKU Department of Mechanical Engineering.
HKU Vice President (Research) Professor Andy Hor congratulated the research teams. He said:"These prestigious global awards are testimony of the potential impact of our innovations and technologies in future industries. It gives our professors and researchers the confidence that while we are advancing novel science at the fundamental frontiers, there is also room for incubation of disruptive technologies that will shape the human world."
The Innovation Awards identify the top 15% of submitted technologies as ranked by the TechConnect Corporate & Investment Partner Committee. Innovation rankings are based on the potential positive impact the submitted technology will have on a specific industry sector. Over 240 submissions from about 95 organisations including global academic technology transfer offices, early-stage companies, small business innovative research (SBIR) awardees, and government and corporate research laboratories were received this year.
The aim of TCWI is to accelerate the commercialisation of innovations out of the lab for applications in the industry. For over 20 years, the event has been held to connect top applied research and early-stage innovations from universities, labs, and startups with industry end-users and prospectors.
HKU's award-winning innovations: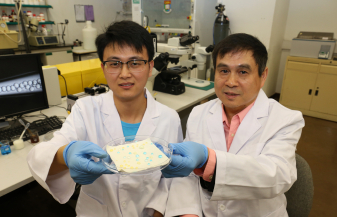 1. Omniphobic porous membrane and methods for preparing the same

Professor WANG Liqiu and Mr ZHU Ping An at the Department of Mechanical Engineering developed this innovative microfluidic-droplet-based technique, for the fabrication of porous surfaces which is very much similar to shaped-cookies made by baking molds. The molds are uniform micron-sized droplets that are produced by microfluidics technology with precise control over their size, structure, and composition. Molded by microfluidic droplets, commercial-scale uniform microstructures are produced at low cost. The breakthrough will change the way liquid-repellent surfaces are fabricated for robust liquid-repellency, strong mechanical stability, and economical production at a commercial scale. It also paves the way for further progress in creating surface structures by design, and in tailoring their morphology, repellency and mechanical stability to suit a desired application in various fields.
Details of the research: https://www.hku.hk/press/news_detail_17080.html
2. Super Steel- A method for the fabrication of a super-strong and ductile multi-phase steel
This Super Steel developed by Dr HUANG Mingxin and Dr HE Binbin at the Department of Mechanical Engineering achieves an unprecedented yield strength of 2.2 GPa and uniform elongation of 16%. It can be produced using conventional industrial processing routes, including warm rolling, cold rolling and annealing. Raw materials cost is only 20% of the maraging steel used in aerospace and defence applications.
Details of the research: https://www.hku.hk/press/news_detail_16681.html
Five other HKU projects showcased at TCWI:
1. Angle Difference Method for Vehicle Navigation in Multilevel Road Networks
Department of Urban Planning and Design, Faculty of Architecture
2. Arsenol - an oral formulation of arsenal
Department of Medicine, Li Ka Shing Faculty of Medicine
3. Daidzein and other analogs as agents for purging HIV reservoir
Department of Microbiology, Li Ka Shing Faculty of Medicine
4. Light-guided Nanorobots
Department of Chemistry, Faculty of Science
5. OPTIClear - a tissue clearing agent
School of Biomedical Sciences, Li Ka Shing Faculty of Medicine
For more information about the projects, please click here.
For details of TechConnect World, please visit:
http://techconnectworld.com/World2018/participate/innovation/awards.html
For media enquiries, please contact Ms. Melanie Wan, Senior Manager (Media), Communications and Public Affairs Office, tel: 2859 2600/ email: melwkwan@hku.hk.