Media
Back
Launch of Changing Chinese Masculinities: From Imperial Pillars of State to Global Real Men
01 Sep 2016
A new book, Changing Chinese Masculinities: From Imperial Pillars of State to Global Real Men, edited by Professor Kam Louie and published by Hong Kong University Press, will be launched at an event on Friday, September 2, 2016. The launch, which is jointly organized by the Faculty's School of Chinese and School of Modern Languages and Cultures, will include a talk by Professor Louie on Jia Baoyu ("The Most Lustful Man Ever") and a discussion of how love and sex were imagined in traditional China.
With contributions from a team of outstanding scholars, Changing Chinese Masculinities studies a range of Chinese men in diverse and, most importantly, Chinese contexts. It explores the fundamental meaning of manhood in the Chinese setting and the very notion of an indigenous Chinese masculinity.

Changing Chinese Masculinities inaugurates the Hong Kong University Press book series "Transnational Asian Masculinities", the first book series in the world on this topic. The Series Editors are Dr Derek Hird from the University of Westminster, and Dr Geng Song, Associate Professor in the School of Chinese at the University of Hong Kong.
Members of the media are cordially invited to attend the event. Details are as follows:
Date: September 2, 2016, Friday
Time: 4:00 pm – 6:30 pm
Venue: Room 436, Run Run Shaw Tower, Centennial Campus, HKU
Language: English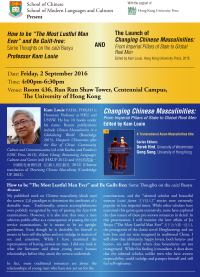 About Professor Louie:
Kam Louie is an honorary professor at the University of Hong Kong and UNSW, Australia. He is the author of Theorising Chinese Masculinity.
For media enquiries or individual interview requests, please contact Mr Cyrus Chan, Events Coordinator, Faculty of Arts (tel: 3917 4984 email: cyrusc@hku.hk).