Back
Practitioner Lecturers Series co-organised by HKU FBE and FSDC
"Life as a Banker" by Mr. Peter Wong Tung Shun
13 Apr 2016
The public forum jointly organised by the Faculty of Business and Economics of The University of Hong Kong and The Financial Services Development Council (FSDC) was successfully held on March 23. The forum entitled "Life as a Banker" featured Mr. Peter Wong Tung Shun, JP, Deputy Chairman and Chief Executive Asia-Pacific of The Hong Kong and Shanghai Banking Corporation Limited (HSBC). The lecture hall was packed with audience including business leaders, faculty members, students, alumni and the general public.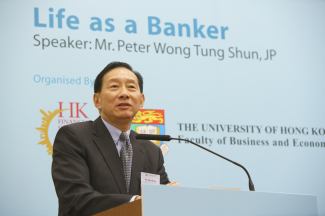 Mr. Wong shared his experiences and views on the skills needed to excel in the banking profession and the challenges that young practitioner may face in banking's fast-paced and highly regulated market environment. He said that the sector is in need of talented young professionals who have the energy and skills to thrive in the banking industry. Following the lecture was a Q&A session moderated by two Student Ambassadors: Miss Christy Yeung, Year 2 Bachelor of Economics and Finance student and Miss Ann Ko, final year students of Bachelor of Business Administration (Accounting and Finance). Many audiences seized the rare opportunity to ask questions.
If you wish to revisit Mr. Wong's speech, please click here to watch the video and more photos are available here.
For media enquiries, please contact:
Helen Wong
Assistant Director of Communications
HKU Faculty of Business and Economics
Tel: +852 6199 6988 / +852 3917 4311
Email: hgewong@hku.hk

Anita Handayani
Communications Manager
HKU Faculty of Business and Economics
Tel: +852 3917 4488
Email: anitah@hku.hk