Back
HKU responds to media enquiries about exhibition "Conforming to Vicinity"
10 Feb 2015
Our curatorial team is consisted of 9 representatives from 4 different institutions in Mainland China, Taiwan, Macau and Hong Kong.
This team invited 3 artists from each region to present a project, and the team accepted individual artists for the project they submitted.
The team then worked very closely with artists and exhibited all projects (ONE by each artist) first in Macau, then in Pingtung, in Shenzhen, and lastly in Hong Kong.
Otto Li mentioned in May 2014 to two of the curators that he had a new idea. Since each artist was asked to 'conform to vicinity' and to develop his/her initial idea, his initiative was welcomed.
Later, the team learned that Otto Li wanted to present his new idea in form of a second - completely unrelated – project, rather than as further development of his original project. His 'Faces of Representatives' were not a development of 'Soundscapes' (his project in this exhibition) and they were therefore never part of the exhibition.
To accommodate Otto Li's wish to present his additional project nonetheless, University Museum and Art Gallery (UMAG) offered to display it adjacent to his original project. Otto Li selected a space. When he learned that the display would only be available 10 days after the exhibition opening (it was still taken up by a previously organised display), he hesitated and UMAG offered him a second space. Otto Li considered this second space too small, despite the fact that it's the most prominent within the museum, and too far from his first project, so the artist refused to show 'Faces of Representatives' and withdrew his idea of displaying his extra project.
The matter was purely about disagreement of arrangement in the way to display the art pieces. No political consideration was involved in the arrangement of displaying Mr. Li's work. Indeed, three of the other artists in the exhibition included political contents as part of their projects, and the curatorial team had no problems with this further development of their initial idea (they 'conformed to vicinity').
UMAG is known for supporting artistic freedom. During the year of 2014, exhibitions including 'Tankman' by award-winning June 4 photographer Jeff Widener and 'Refuse the Shadows of the Past' are vivid illustration of a diversity of themes to be displayed in UMAG.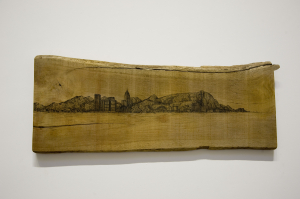 Eric Fok
Paradise Series
Painting (Wood, Technical Drawing Pen)
Banner behind the Bank of China depicts "Want true suffrage"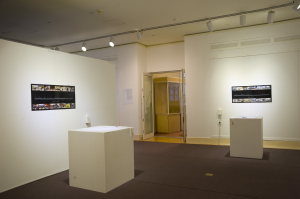 Otto Tin Lun Li
Developing Soundscapes
Map, Sound Tracks, Lambda prints on Paper
Otto Li's artwork display at UMAG