Back
The School Physical Fitness Award Scheme enters its 25th Anniversary and welcomes the partnership from the HKU in providing a platform to monitor and enhance physical fitness among Hong Kong children
06 Jan 2015
The School Physical Fitness Award Scheme (SPFAS) being launched in 1990, co-organised by the Hong Kong Childhealth Foundation (HKCHF), Education Bureau (EDB), and the Physical Fitness Association of Hong Kong, China (HKPFA), enters its 25th Anniversary in 2015. At this special anniversary, the organisers are honoured to announce the partnership with the Department of Paediatrics & Adolescent Medicine, Li Ka Shing Faculty of Medicine, The University of Hong Kong (HKU).

The Department of Paediatrics & Adolescent Medicine vows full support to the SPFAS and has developed a new electronic platform to record the fitness data and provide brand new analysis tools for policymakers and schools to monitor the health and fitness of their children. Upon a test-run of the platform, the fitness data collected in 2013/14 school year (sy) are analysed. It revealed that Hong Kong children participating the SPFAS were less fit than their peers in Mainland China, Singapore and Europe. A press conference was held today (January 5, 2015) to report the findings and to share the views on how to make our next generation healthier.

One of the speakers, Dr Patrick IP, Board member of the HKCHF and Clinical Associate Professor of Department of Paediatrics & Adolescent Medicine, Li Ka Shing Faculty of Medicine, HKU, said 'Inactivity is a major cause of disease so it is important that we promote regular physical activity and physical fitness at young age'.

About the new electronic platform and its functions

With the new electronic platform developed by HKU, policymakers, school principals and teachers could better assess the growth and physical fitness of their students and monitor the effectiveness of new interventions at school and community level. As illustrated in Figures 1 and 2, our new functions allow schools to show their students' BMI by age scatterplot above the standard growth curve and distributional plot comparing handgrip test performance of two years. These plots are very useful in assessment of schools' general health status and pinpoint students who are unfit and unhealthy. For example, observing a declining trend in handgrip strength, schools could allocate more time in training their students' upper limb muscle power. Ultimately, we hope the new platform would be able to collect the students' detailed health and fitness data and generate straightforward graphs for parents to monitor their children's health and fitness trend from primary 1 till secondary 6 (Figure 3). The HKU will continue to monitor the data over the years.

Findings

In 2013/14 sy, 173 schools have submitted health and fitness data of about 100,000 students (6 to 19 years) in the platform and our analysis indicated a rather noteworthy picture: about 27% of children participating the Scheme were overweight and obese (Figure 4); the flexibility of an average girl in the Scheme was at the bottom of the Singaporean standard and was below their mainland counterpart's average (Figure 5); the handgrip strength of our 15 year-old boys was 8.0 kg (27.0%) weaker than their peers in the Mainland China and Europe (Figure 6); and boys' cardiopulmonary fitness was much worse than those in Europe though the difference among girls was less pronounced (Figure 7). It is particular notable that the physical fitness gap between children participating the scheme and from other parts of the world widened with age.

Conclusion and Suggestions

SPFAS provides an entry point to tackle the present health and fitness problem: the new SPFAS platform can act as an on-going surveillance system to monitor students' physical health, growth and fitness, as well as a platform to tailor-make intervention programmes at school level. We encourage communities to allocate more resources on physical activity, e.g. reserve more sport facilities for students and schools, schools to actively participate in the programme and use the platform, and parents to understand more about the benefits of physical activity and to participate in sports and exercise with their children.

About the School Physical Fitness Award Scheme (SPFAS)

SPFAS is a population-based programme to promote physical activity and fitness among Hong Kong students. The Scheme was co-established by HKCHF and EDB in 1990 and HKPFA has participated as a co-organiser in 2007. With the recent support from the Department of Paediatrics and Adolescent Medicine, Li Ka Shing Faculty of Medicine, HKU, the scheme has launched a new centralised online platform in 2013. More than 330 local schools has registered for the SPFAS through the new platform in 2013/14 sy and we expect the platform will draw more schools in the next few years.
Background

Physical inactivity is an important public health issue worldwide. In 2006, HKU has estimated that only 6.1% of our children (4 to 14 years old) participated in 60 minutes of physical activity every day (World Health Organization Physical Activity Guideline). Although the figure has risen to 8.3% in an official report in 2011, our next generation's physical fitness is still a serious public health concern. More effective strategies should be developed to promote regular exercise.
Please visit the website at http://www.med.hku.hk/v1/news-and-events/press-releases for press photos.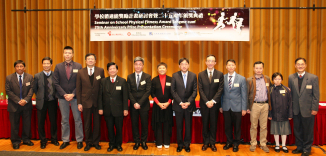 Professor Gabriel M Leung (Right 5), Dean of Li Ka Shing Faculty of Medicine, HKU, Dr Patrick Ip (Left 6), Clinical Associate Professor of Department of Paediatrics & Adolescent Medicine, Li Ka Shing Faculty of Medicine, HKU, together with representatives from Hong Kong Childhealth Foundation, Education Bureau, Physical Fitness Association of Hong Kong, China and other guests took a group photo after the event.