Back
HKU Arts student Hayley Chan Hei-man wins Gold at the 2014 Asian Games in Incheon
30 Sep 2014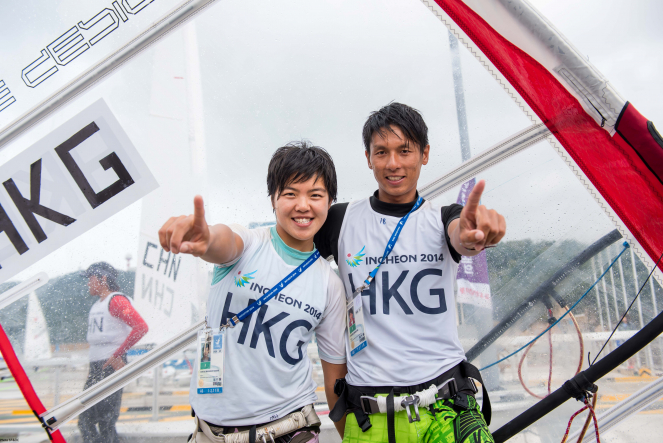 Hayley Chan (left, with fellow medalist Cheng Kwok-fai) wins gold at the 2014 Asian Games
(Photo courtesy of the Sports Federation & Olympic Committee of Hong Kong, China)
Arts Student of the University of Hong Kong Hayley Chan Hei-man has won a gold medal today (September 30) for Hong Kong at the 2014 Asian Games in Incheon, South Korea, competing in the women's RS:X windsurfing event.
Congratulating Chan on her gold medal, President and Vice-Chancellor Professor Peter Mathieson said: "Hayley has followed her dreams, and her hard work and dedication have been rewarded. I look forward to meeting Hayley upon her return to Hong Kong so that I may congratulate her in person for this outstanding result."
Professor Douglas Kerr, Dean of Arts, added: "Today we have another reason to be proud of the spirit of Hong Kong University's students. This is an incredible achievement. The Faculty has been following Hayley's progress since she won silver at the Asian Games in Guangzhou in 2010. Her determination and courage are an inspiration to us all and we are proud to count her among our students."
For media enquiries, please contact Ms Georgina Challen, Public Affairs Manager, Faculty of Arts (tel: 3917 4250 email: gchallen@hku.hk) or Ms Melanie Wan (Senior Manager (Media), Communications and Public Affairs Office) tel: 2859 2600 email: melwkwan@hku.hk.