Back
HKU Libraries to hold exhibition on scholarly and art works of the Family of Zhuangyuan Wu Lu
05 Oct 2014
On January 13, 2014, the Libraries hosted a donation ceremony to honour Mr Ng Tsz Tung (吳紫棟) and his family for donating their family treasures to the Fung Ping Shan Library. The Libraries will hold an exhibition of these great treasures in the Special Collections, 1/F Main Library, the University of Hong Kong from October 6 to 24, 2014. Please note that the opening hours for the exhibition will be: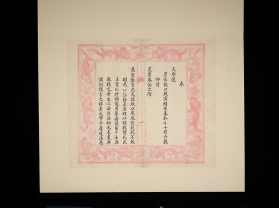 9:00 am - 10:00 pm Monday to Friday
9:00 am - 7:00 pm Saturday
10:00 am - 7:00 pm Sunday

Mr Ng had devoted a great deal of time and effort in the past two decades collecting the dispersed art works of his great grandfather, the late Mr Wu Lu (吳魯), who ranked first in a palace examination held during the Guangxu (光緒) era (1871-1908) and was honoured with the widely-admired title Zhuangyuan (狀元). After a number of suggestions for Mr Ng to auction his collection, Mr Ng has decided to find a permanent home at a prestigious institution. The Fung Ping Shan Library of the University of Hong Kong has been chosen to home this rare collection which will be made available for scholarly purposes.
The donation includes Mr Wu Lu's script for the imperial examination, manuscripts of the poems he wrote grieving at the Eight Power Expedition (八國聯軍) to China in 1900, as well as a number of calligraphy and books written by four generations of the Wu family. These are not just treasures of the Wu family but also the treasures of the Chinese culture.
Mr Ng has been actively promoting the study of Wu Lu by attending academic conferences, writing articles, and engaging in dialogue with scholars. Donating the family's invaluable collection to the Fung Ping Shan Library is yet another step to promote the study of Wu Lu and ensure these treasures will be properly preserved.
Media Contact: Mr. Gary Chin, Tel: 2859 2211 or Ms. Marina Yeung, Tel: 2859 8903 of the HKU Libraries.