Back
HKU scholar of philosophy Dr Alexandra Cook receives the prestigious
John Thackray Medal of the Society for the History of Natural History 2013
07 Sep 2014
Dr Alexandra Cook, Associate Professor in the Department of Philosophy at the University of Hong Kong, has been awarded the prestigious John Thackray Medal of the Society for the History of Natural History in London for her book, Jean-Jacques Rousseau and botany: the salutary science (Oxford: The Voltaire Foundation, 2012). She was presented with the Thackray Medal on July 19, 2014 at the Society's Annual General Meeting held at Magdalen College, Oxford. Dr Cook was also awarded the HKU Arts Faculty Research Output Prize 2012-13 for this work.

In its commendation, the Thackray Medal Award Committee stated: "Dr Cook's scholarship is impressive. Her interpretation of Rousseau's taxonomic views, how they developed and how (and why) they have been distorted by later commentators, is original and compelling."

Professor Douglas Kerr, Dean of Arts, added, "The Faculty is very proud to hear that Dr Cook has been awarded the John Thackray Medal. This is further recognition of her outstanding and insightful work on Rousseau. Her book has shed new light on this philosopher's study and practice of botany."

Dr Cook has been very active in knowledge exchange projects in France and Switzerland based on her award-winning research on Rousseau; these include a major outdoor exhibit she curated in 2012 at the Botanical Garden of Geneva to commemorate the 300th anniversary of Rousseau's birth (http://www.ville-ge.ch/cjb/rousseau_intro.php). Dr Cook is also a Fellow of the Linnean Society of London (founded in 1788), which is under the patronage of Her Majesty, Queen Elizabeth II.
About the John Thackray Medal
The Society for the History of Natural History is a leading international organization devoted to the documentation and recognition of scholarship relating to the history of natural history. The Society's Patron is the noted scientist and broadcaster, Sir David Attenborough. Instituted in 2000 to commemorate the life and work of John Thackray, Past President of the Society, this medal is awarded for a significant achievement in the preceding three years in the history of those areas of interest to the Society, that is the biological and earth sciences in the broadest sense. (http://shnh.org.uk/awards-honours-medals/john-thackray-medal/)
About Jean-Jacques Rousseau
Jean-Jacques Rousseau (1712-1778), best known for his Social Contract, studied botany for many years; he rejected conventional medical uses of plants and advocated studying them in a contemplative and personally rewarding way. He also devised practical pedagogical tools for botany such as a novel set of 1,000 characters for denoting different plant parts and characteristics. Rousseau popularized botany in a series of letters that were translated from French into English, Danish, Dutch, Portuguese and Russian in the late eighteenth and early nineteenth centuries. More recently, Rousseau's letters on botany have been translated into Chinese.

To learn more about Dr Cook and her research, please visit http://cookga.wix.com/alexandracook.

For media enquiries, please contact Dr Alexandra Cook (tel: 3917 4335, email: cookga@hku.hk).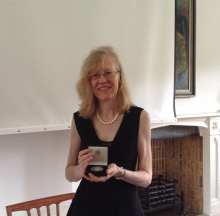 Dr Alexandra Cook received the John Thackray Medal at a presentation ceremony held at Magdalen College, Oxford, on 19 July 2014.