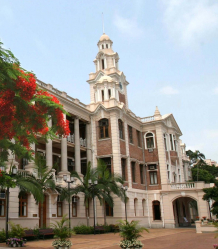 The Main Building of HKU
Today, HKU has gained international recognition for its accomplishments as a research-led comprehensive university.
In 2003, during the outbreak of Severe Acute Respiratory Syndrome (SARS), HKU medical researchers became the first in the world to identify the coronavirus that caused the SARS.
In 2005, the Faculty of Medicine was renamed the Li Ka Shing Faculty of Medicine.
From 2010 to 2012, the University held Centenary Celebrations to mark its 100th anniversary.
In 2012 – along with all the other institutions of higher learning in Hong Kong and in accordance with the government's education policy – the University officially launches its 4-year undergraduate curriculum.
HKU continues to attract the best local students, along with many Mainland China and international students. The University's academics have outstanding achievements in teaching and research, and about half of HKU's faculty are from overseas. In 2023, 90 scholars joined HKU's academic staff ranks by the start of the first semester.
All ten faculties and their departments provide teaching and supervision for postgraduate-level research (MPhil and PhD) students, with administration undertaken by the Graduate School.
For details of undergraduate and postgraduate admissions, please go to https://admissions.hku.hk/.
For more statistical information about HKU, please go to: http://www.cpao.hku.hk/qstats/.