上一頁
World-renowned University of Hong Kong Professor to speak at "Meeting of Minds" Lecture in Colombo (English Only)
2011年01月06日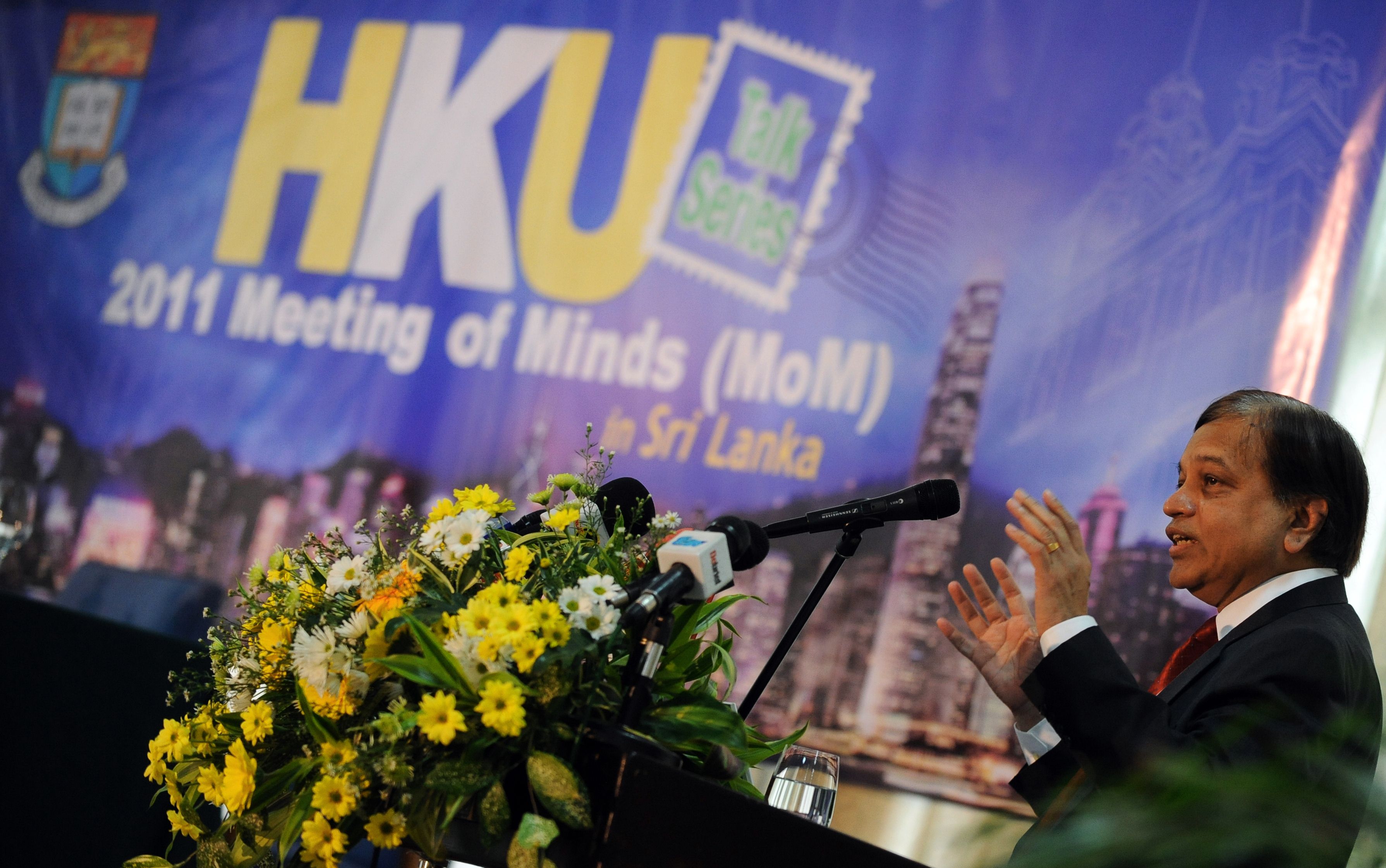 Professor Malik Peiris
The University of Hong Kong (HKU) is proud to announce that it is bringing its successful "Meeting of Minds" series of lectures to Sri Lanka in 2011. Prof. John A. Spinks, Senior Advisor to the Vice-Chancellor at the University, says, "We are very excited to have the world-renowned scientist, Professor Malik Peiris, who was born and educated in Sri Lanka, to deliver this first lecture".
The title of his lecture will be "Confronting the threat of new emerging infections". Prof. Peiris is well known world-wide, as well as in Sri Lanka, for his work on identifying the SARS virus in 2003 and for his research into emerging infectious diseases. Professor Peiris describes his lecture as follows:
"Scientific research is about understanding the world around us with the aim of making a difference; to improve the lot of our fellow human beings and our global environment. This lecture will try to convey the excitement of scientific discovery and research"
The "Meeting of Minds" lectures, organized by HKU, have attracted an enormous number of secondary school students and community members when they have been held in China, where most of the lectures have been given to date. Each lecture is given by a highly respected professor at or associated with The University of Hong Kong, with the goal of helping our younger students at high schools to understand more about what is happening in the research laboratories and work of universities. The intention is that the concepts used in the lectures are not only understandable by senior high school students, but that the content will help them in their studies by expanding their deep level knowledge of relevant aspects of intellectual and academic enquiry.
A scholarship opportunity for high school students
The University of Hong Kong has established a reputation for nurturing the next generation of research talents from across Asia. Professor John A. Spinks continues, "We are proud to announce that the University of Hong Kong will offer successful applicants a short internship opportunity in Professor Peiris' lab in the University. This is the first time that we have been able to make such an offer to high school students, which, I believe, would help considerably in their applications to top universities worldwide, including HKU." This opportunity is only available on this occasion to high school students from Sri Lanka. A full scholarship from The University of Hong Kong that will cover a round-trip air-ticket to and from Hong Kong, accommodation, meals and other expenses will be awarded to successful applicants. Students can also experience the vibrant city, an exciting university life and gain hands-on experience in Professor Peiris' and other research laboratories at the University. The details will be announced on the application forms that can be collected and completed during the Meeting of Minds' session.
For media registration and enquiries, please contact our programme co-ordinator at international@hku.hk or +852 2219 4121.
About The University of Hong Kong (HKU)
Established in 1911, The University of Hong Kong (HKU) is the territory's first university. Today, it is recognized globally as a world-class comprehensive research-led university and is consistently highly ranked in international higher-education league tables. HKU leads the way in terms of funding and awards from the Hong Kong government and support from the local community, which in turn means exceptional support services and facilities for our students. You'll find the largest and most diverse international university student population at HKU, located on Hong Kong Island, near the dynamic financial and business centre of Hong Kong. HKU has been ranked as the best university in the whole of Asia by the QS (Quacquarelli Symonds) World University Rankings and Asian Univeristy Rankings as well as by the THE (Times Higher Education) World University Rankings, and 21st or 23rd in the world, according to these rankings. In 2010, it attracted nearly 40,000 applications for undergraduate study, making it one of the world's leading universities in terms of academic admissions standards of students.
For more information, please visit: http://www.hku.hk/international
About Professor Malik Peiris
Professor Malik Peiris has developed a multi-disciplinary research program with strong international collaboration that has made a major impact worldwide in understanding the ecology, epidemiology, pathogenesis and control of animal and human influenza viruses. He has a particular interest in how viral diseases such as influenza, coronaviruses, and (in the past) arboviruses. develop at the human-animal interface. His current research encompasses pathogenesis, virus-tropism and innate immune responses to viral infections and the clinical disease burden of influenza and other respiratory viruses. He has coordinated an 8 year multi-disciplinary and multi-institutional Area of Excellence Program of the University Grants Committee on the "Control of Pandemic and Inter-pandemic Influenza". In 2003, he played a key role in the discovery that a novel coronavirus was the cause of SARS.
Since 2007, he has served as the Scientific Director of the HKU-Pasteur Research Centre with a focus on the cell biology of virus infections. He is currently the President of Asia Pacific Society of Medical Virology.

He has over 320 research publications with over 11,000 citations and is ranked by Essential Science Indicator of ISI as being one of the "top 1% most-cited international scientists" worldwide.
He was the first Sri Lankan to be elected a Fellow of the Royal Society of London in 2006, the highest scientific honour in the Commonwealth, and was awarded the Chevalier de la Legion d'Honneur, France (2007), Mahathir Science Award, Akademi Sains, Malaysia (2007) and Silver Bauhinia Star in Hong Kong SAR (2008).
Prof. Peiris was born in Sri Lanka, and educated at St. Anthony's College, Kandy, the University of Peradeniya, and the University of Oxford.