Back
Africa's Premier Diva - Angelique Kidjo @ HKU
30 Oct 2015
Ms Angelique Kidjo, singer, songwriter, two-time Grammy Award winner in 2008 and 2015, and UNICEF Goodwill ambassador from Benin, West Africa, spoke at the University of Hong Kong today (October 30).
Ms Kidjo's talk focused on her artistic life, her political engagement as well as her foundation "Batonga", which advocates for the empowerment of young girls through secondary school and higher education in Africa.
The Guardian has listed Ms Kidjo as one of its "Top 100 Most Inspiring Women in the World" in art, film, music and fashion, and she was included among "The 40 Most Powerful Celebrities In Africa" by Forbes magazine in 2011.
This event was co-organized by the HKU African Studies Programme and General Education Unit. Ms Kidjo is in Hong Kong to perform in the World Cultures Festival presented by the Leisure and Cultural Services Department.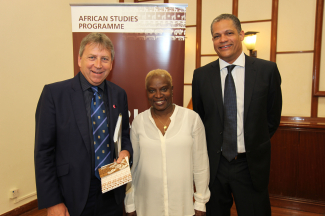 HKU President Professor Peter Mathieson and Dean of Arts Professor Derek Collins with Grammy award-winning singer Angelique Kidjo
For media enquiries, please contact Ms Celeste Shai (tel: 3917 5044 email: cymshai@hku.hk) or Ms Hyacintha Faustino (tel: 3917 2000 email: faustino@hku.hk).